Last month, I went to Juliano's in Ballymena, with Cherry!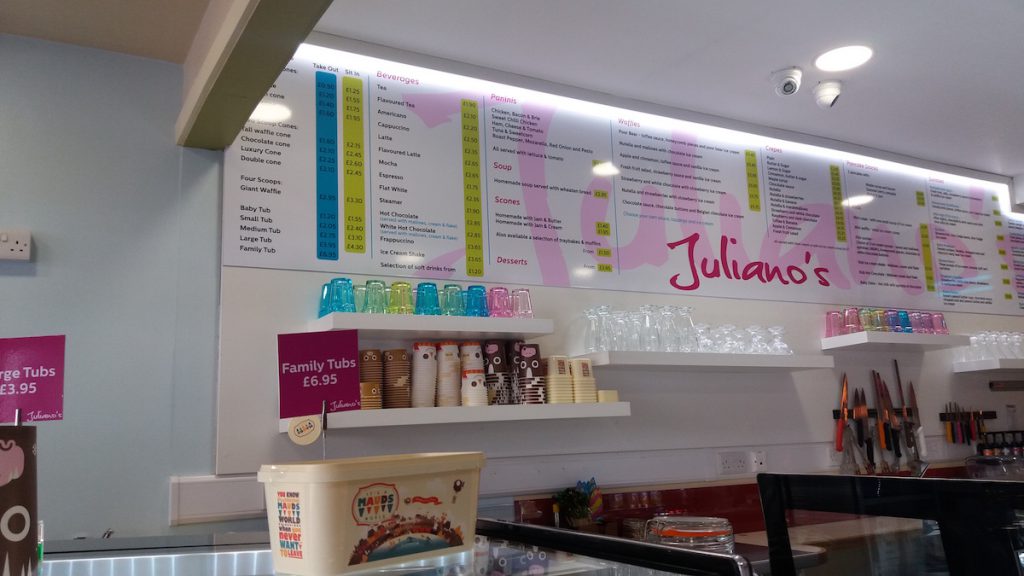 "Juliano's" is a fairly-new Crêperie/Dessert Place /Coffee Shop, which took over the similar company "Glory Be". I must admit that I had never been to either Glory Be or Juliano's before, despite everyone seeming to talk about them! So, when Cherry and I decided to go to Juliano's last Saturday, I was thrilled!






Juliano's is on Broughshane Street, in Ballymena – opposite Cameron's and beside The Salvation Army. It is right in the middle of the shops in Ballymena, and so is already an ideal place to stop when passing by to have something!
When I walked into Juliano's, I was immediately greeted by the smell of warm crêpes, desserts, drinks and many other smells. It made my mouth water – and I hadn't even seen the food yet!
Juliano's has a long glass cabinet which contains all of their cakes, pavlovas and desserts, along with their magnificent ice cream, cool drinks and much more! As soon as I saw the cakes, pavlovas, brownies and other desserts which they had in the cabinet, I couldn't help but just open my mouth and stare at them all (Cherry will verify that)! I had never seen such a variety of huge, beautifully presented, mouth-watering desserts before! I looked from one to the other, reading the little notes beside them and struggling to make a decision! Surely you couldn't pick!
However, I finally settled on my traditional hot chocolate and for a change I got a huge double chocolate chip cookie, from jars on top of the counter. Once I had placed my order at the till, I took a seat with Cherry and soon after a girl came to our table, with our food items. Cherry ordered a simple(ish) chocolate brownie, but whenever they brought it, they had beautifully presented it, with a chocolate sauce and mini chocolate buttons scattered on top!



Our hot chocolates came in a huge mug with whipped cream and marshmallows, and a flake beside it. I have to admit that this hot chocolate was one of the biggest hot chocolates I have ever had! People tend to say, "Quality, not quantity!" – however, Juliano's was both, as my hot chocolate and cookie were so incredibly delicious that I had to restrain myself from getting another!
On our way out, we saw the Ice Cream Cake and Cupcake Cabinet (tongue-twister?!). We looked in and saw so many different flavours of Ice Cream Cupcakes – chocolate, bubble gum, strawberry, mint… the list goes on! We also saw other variations of ice cream, such as mouth-watering ice cream sundaes and of course the famous Ice Cream Cakes! In Juliano's, you can get a personalised Ice Cream Cake for any occasion: such a birthday, anniversary etc. They look delicious, and their designs are simply perfect!
Juliano's also provides paninis, soups, scones and waffles, as well as crêpes, pancake stacks and sundaes‼ Looking for giant cookies for £1? This is the place to go!
If I was to go again, I would want to try one of their desserts – whether it be their "Strawboffee", "Kinder Bueno Cheesecake", or maybe even a daring attempt at their rich Chocolate Fudge Cake!
So re you ready to satisfy your sweet tooth with one (or more!) of these delectable desserts? You won't be disappointed!