Congratulations to Alyson Reid from Ballymena fro being chosen to be part of BBC Music day. BBC Music Day was held on Friday 3rd June and Alyson is one of their Unsung Heroes.
Here Alyson chats to Steve Wright on his Radio 2 show about the award.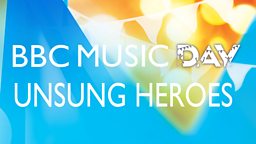 To mark BBC Music Day on 3 June 2016 we asked people around the country to nominate a local Unsung Hero. It's a UK wide search to find music champions who have made, and continue to make, a difference to people's lives through music in their community.
The five winners were selected by a BBC panel after being nominated by members of the public. 
Alyson founded the Voice of Hope choir ten years ago with the aim of bringing inspirational, joyful music to the local community in County Antrim. Since its inception the choir has raised around £80,000 to help charities such as MacMillan, Lifeline, Asha and many others. Not content with running just one choir, Alyson founded Raise The Roof Choir in 2012, to raise money to build a school in Uganda. Last year the choir met their target and construction started on the school in Masalaba, Uganda. Alyson will be travelling to Uganda later this year to officially open the school.
Both the Voice of Hope Choir and the Raise the Roof Children's Choir are regular features in and around Ballymena. Well done to Alyson who is very deserving of this award. Alyson will be VIP guests at the BBC Music Awards in December. Please click here to visit the Raise the Roof Children's Choir Website and read more about the work which Alyson is involved in.