Cherry and I have been exploring again. We went to Netty's Vintage Tearoom in Ahoghill!
Netty's Vintage Tearoom is a cute little tearoom – but it sells more than just tea! The teas they do sell include their "House Tea", speciality teas and herbal, including peppermint, green tea and a 'selection'! They do other drinks such as coffees, hot chocolates and even milkshakes! Lunch is available there too – they make paninis, soups, and baked potatoes! As part of their 'Cold Selection', they make scones, pancakes and sandwiches. And the best bit… they do traybakes! They do desserts, homemade traybakes, homemade cakes and even their own cupcakes!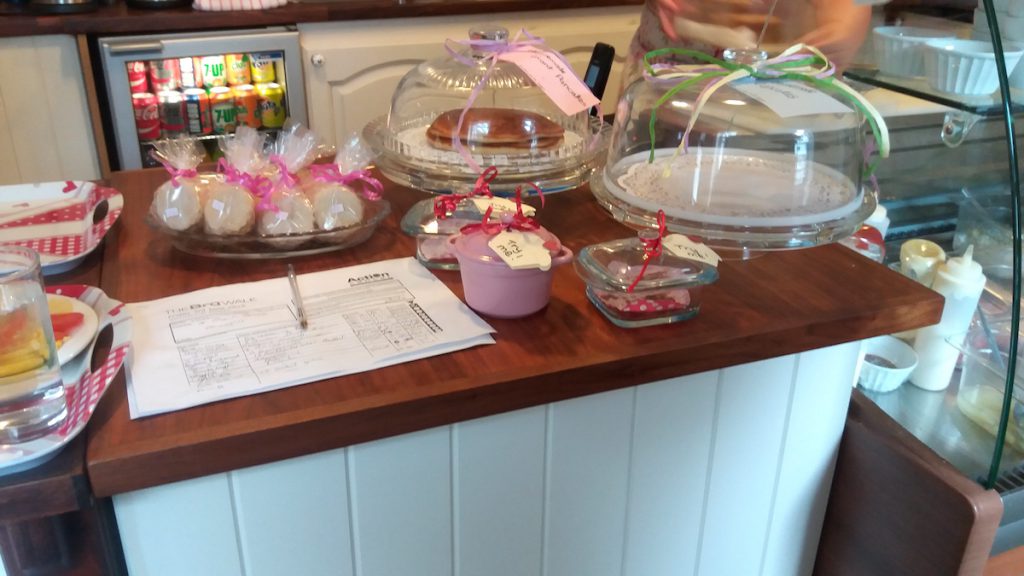 Netty's Vintage Tearoom
Ok… so enough about food! The actual place itself is located at 4 Main St, Ahoghill, Ballymena, and is one of the most 'cutest' cafes I have been to! The whole place is decorated with an 'afternoon tea'-style, with spotted tablecloths, bunting and much more!
The main counter, as soon as you walk in, has the glass cabinet with some of their yummy traybakes and desserts! Cherry and I each got a teapot between us (well, we were at a TEA room!) and a 'Peanut Mallow' square each – a traybake loaded with chocolate, peanut butter, marshmallows and more chocolate, assembled together by Rice Krispies! The girl who was serving us warned us (with a wink!) that if we got them, we would have to be careful as they are quite addictive… and I cannot disagree! It was hard not to go up and get something else – it all looked really nice – but we managed to survive on just the one!





When we were chatting away, it had such a relaxed and cosy atmosphere – I almost felt like I was at an afternoon tea! Then, Cherry told me that there was a shop in the place, and we would see it afterwards! I was surprised and also curious to see what was in it!
In the cute little shop, there were mostly girly things, such as purses, handbags and necklaces. There were also candles and accessories such as scarves and beautiful bracelets!





Overall, Netty's Vintage Tearoom is a lovely wee place to go, with a cosy venue, very friendly staff and a delicious lunchtime menu!
So, why don't you go and check out the Netty's Vintage Tearoom and the cute little shop! It will be well worth it!