Grove Vets, Ballymena, offer Petplan policies. A Petplan policy will cover your pet for treatments and check ups. The Petplan website has lots of information and Grove Vets can help you with any questions you may have about Petplan.




Petplan are a great organisation who have shared a First aid for pets an article written by Sophie Flux on their website.
Sophie runs Animal Aiders, a company providing veterinary-led first aid courses for pet owners. Their courses are currently only available in the mainland but here are some of the top pet problems which owners can treat with a little pet first aid advice. Click here to read the full blog post.
First aid for pets – Ballymena
How to treat a graze on a dog
Look to see if your pet has any other injuries in the area that need treating. If he's bleeding heavily or seems to be in a great deal of pain, then take him to your vet to be checked out.
If necessary, carefully cut away any hair around the wound using blunt-ended scissors.
Wash the area with saline solution, then blot away moisture with a swab.
Apply a hydrogel (water in gel form that provides a moist environment to help wounds heal) to the area.
Check the graze daily and keep applying the hydrogel if needed. Call your vet if the area looks infected (red, swollen or seeping liquid).
How to extract a grass seed from a paw
Grass seeds have the potential to penetrate through fur and into the skin, so if you suspect one is stuck in your pet's paw, soak it in salt solution.
For the solution, use one teaspoon of salt to one pint of cooled boiled water.
Place the paw in the solution for up to 10 minutes to see if this dislodges the seed. Some pets will tolerate this better than others – don't force them to comply if they're unhappy.
If the seed is visible above the skin, you can use tweezers to remove it (not sharp-ended ones, though). Ensure you remove all the seed and its hair.
If you can't extract it, or if the area becomes infected, contact your vet immediately. It's easier to resolve grass seed injuries with early intervention.
How to deal with suspected electrocution of a rabbit
Assess the situation – if it's too dangerous to do anything, don't!
Make the area safe by turning off the source of electricity.
Once it's safe, you can assess the condition of the casualty.
Check for blood, breakages, burns and listen to their breathing.
Contact your vet immediately with all the information you can give them.
Essential tips for keeping pets safer
Prevention is better than cure, so walk your dog on a lead near roads, no matter how well trained he is. Also make sure dogs and cats are as visible as possible when out in the dark – light-reflective collars will help.
Ensure hazardous substances in the home are kept well away from pets. If you suspect they've eaten something toxic, don't try to make them sick as this can be more dangerous. Take your pet – along with any packaging, tablets or plant material that you think he might have swallowed – to your vet as soon as possible.
Keep your first aid kit in a place you can grab it quickly. If you have a dog, put some basic first aid items in your car as well, in case he gets injured while out and about. And store your vet's contact details in your mobile phone.
In an emergency, always call your vet practice first, because many will have out-of-hours clinics. Have a pen at the ready to take down an alternative telephone number if necessary.
If you suspect your pet has broken a bone, don't attempt to apply a splint. Not only is this very painful for your pet, but it can cause the bone to break through the skin and cause more problems.
Never give human medicines to a pet.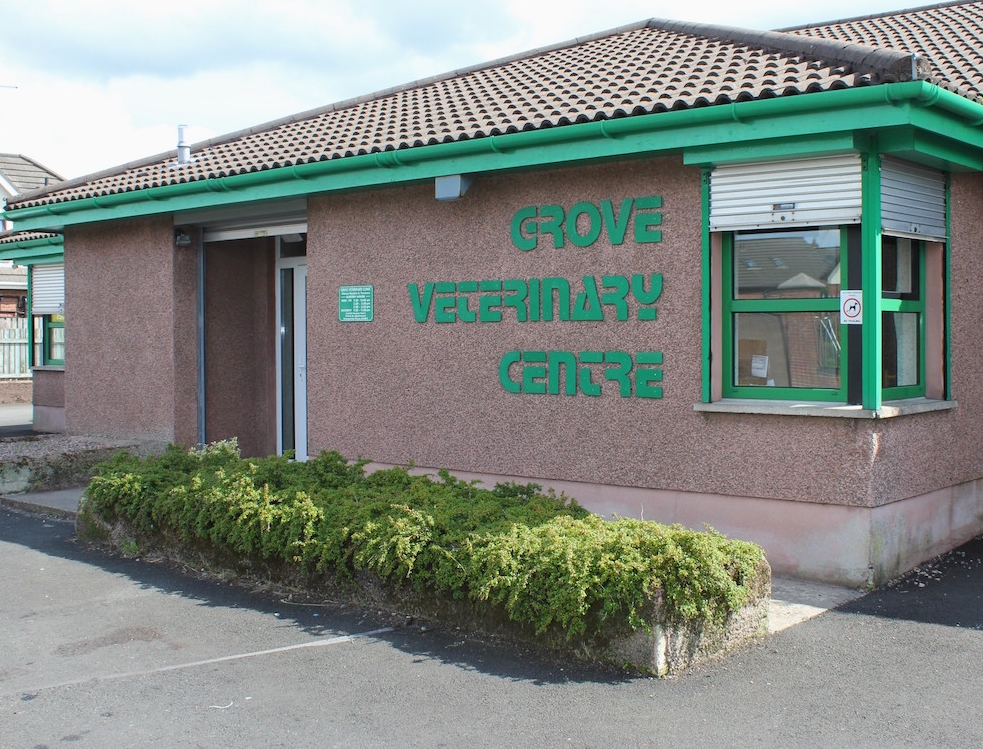 If your pet has been injured or is in pain and you are unable to help them then don't hesitate to get in touch with Grove Vets in Ballymena, and if you have any questions about Petplan give us a call 028 2565 6023.