Roller Banners – Ballymena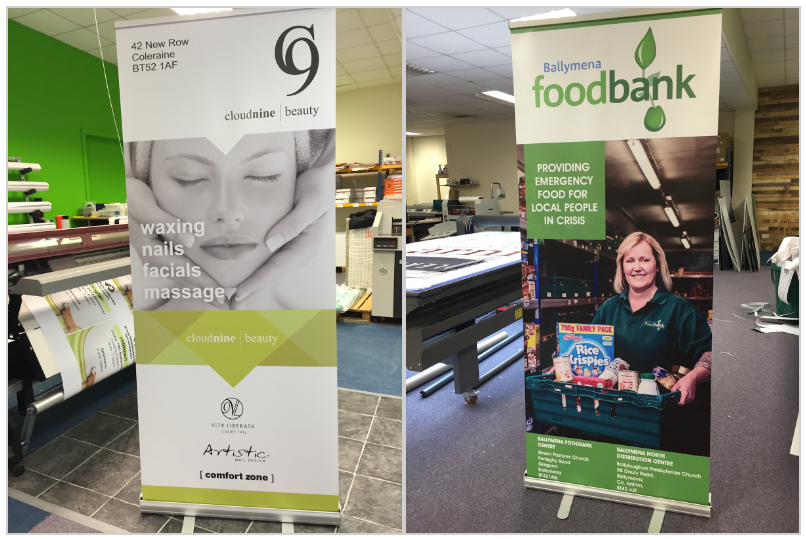 Roller Banners are the perfect way to promote your business or organisation. In Ballymena you can get advice about Roller Banners from Penguin Banners. Penguin Banner will design, print and supply your promotional banner. Penguin Banners recently shared some great advice which will help you to get the right product for your business.
Here is the Penguin Banners guide to ensuring that you are getting the right Roller Banner for your needs:
The market for roller banners is very large and lucrative but a quick look online will illustrate a huge difference in prices and specifications. How do you price your products to make you competitive?
Some retailers will show a budget roller banner at around the £50 mark, some with free delivery – How can they afford to do this?
Here is our tip. Have a look at the graphic panel specification. Are they using standard PVC? Will that be the best for your business needs?
There are a number of problems with using standard PVC. First off the graphic will not sit flat but can curl dramatically on the left and right hand edges. This obscures your graphic and makes your message harder to read. Secondly, if there is any light behind the roll up display it can shine through and cause a shadow from the central pole holding the banner in place. A shadow running down the centre of the graphic renders your roller banner unreadable and doesn't show your message off in a professional and clear way.
To prevent this, Roller Banners from Penguin Banners all printed onto SoFlat Grey Backed Light Stop material. We think that this is the best option and use SoFlat Grey Backed Light Stop on all our Roller banners. 
At Penguin Banners we can design a graphic to suit your individual business or organisation. We will talk to you about your needs and make sure that you get the best option at a great price. Once you have decided upon your message we will print it and deliver your roll up banner. Ordering your roll up display from us means that you can have complete confidence that you are getting the best quality and the best product for your money.
Roller Banners available from Penguin Banners include:
• budget
• premium
• interchangeable
• super wide
• double sided
• outdoor
Penguin Banners are based in Ballymena and work throughout Northern Ireland. If you are interested in finding out more about Roller Banner Display Stands just give Penguin Banners a call on 028 7035 4646 and click here to visit their website.