Ballymena company showcase beautiful Wedding invitations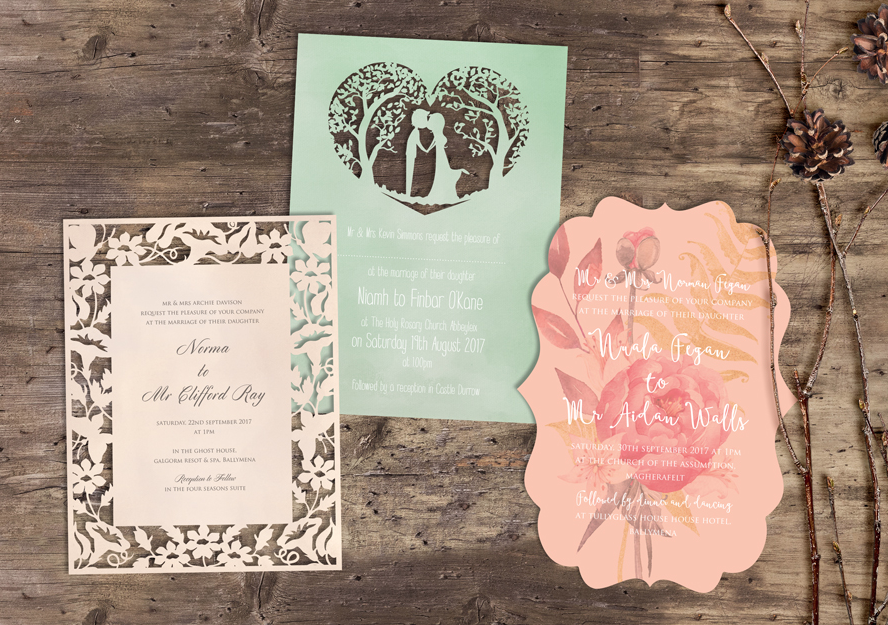 Ballymena company Perfect Day Print print beautiful Wedding invitations. If you are currently planning your wedding and are looking for something unique, bespoke and beautiful for your wedding stationery then you must call in to meet the team at Perfect Day Print. Here is what they have to say:
At Perfect Day Print we love designing a bespoke, unique design for each of our special couples. That way you know that your guests are getting a special invite that reflects you and your wedding.

Laser cut wedding invitations from Perfect Day Print are becoming more popular. With a modern stylish design and luxurious feel even the pickiest couples have been impressed with their wedding invitations. Just take a look below at some invitation which were designed and produced here in Ballymena by Perfect Day Print.
Ballymena company showcase beautiful Wedding invitations
Laser Cut wedding invitations are available in flat card format or with folds (gate fold and pocket fold) and we think they look amazing. We especially love our laser cut wedding invitations in a deep, darker colour – which makes the design really stand out. They look expensive and set the perfect tone for your wedding.

Pick a personalised, bespoke design to make sure that your invitation stand out and reflect you. Laser cut wedding stationery is pretty and delicate and leaves a lasting impression with your guests. If you want something which is really unique and special then consider a completely different material. Forget card and opt for something luxurious like wood or acrylic.
Perfect Day Print can produce not only your wedding invitation but also your entire wedding stationery set. They will be coordinated, matching and all produced in the same place.
Perfect Day Print would love to meet with you and discuss your bespoke laser cut wedding invitation design. Call Perfect Day Print in Ballymena on 0808 168 96 96 and discuss your wedding stationery needs.