The monthly Raceview Mill Market is supporting Dogs Trust Ballymena at their February event. Come along to Broughshane on Saturday 25th February and enjoy their fantastic indoor food and craft market at the Mill complex. Running from 11:00am – 3:00pm you will find lots of local crafters, artists, food producers and much more. Also for all you dog lovers the Dogs Trust will be involved throughout the day.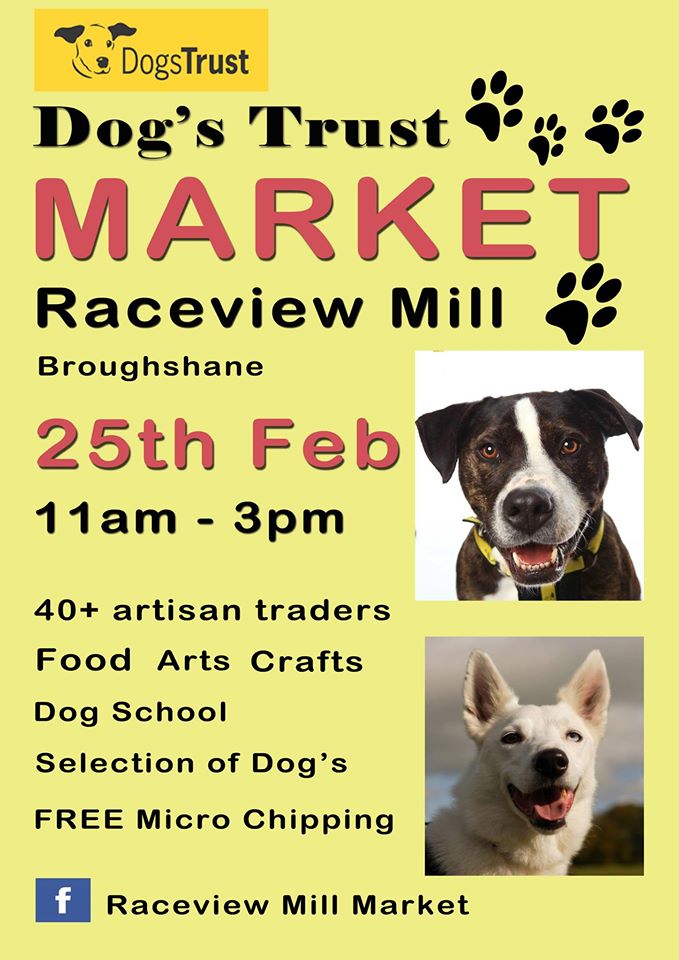 Raceview Mill Market is supporting Dogs Trust at their next market on Saturday 25th February from 11:00am – 3:00pm.
Raceview Mill Market in Broughshane say, "As well as the opportunity to purchase the very finest of local arts, crafts & food produce from over 40 artisan traders, The Dogs Trust Ballymena will be putting on the following.
• Home from Home Information.
• Free Micro Chipping.
• Dog School – Promoting Responsible Training.
• And throughout the day will have a selection of dogs at our market."
Of course there's a lot more at the Raceview Mill complex than just the monthly food and craft market. While you're there you can help support the several local businesses who are based at the Mill. Here's just a few. Bread & Soul Bakery, The Dog Stop, The Closet Boutique, Linda's Original Sticky Toffee Pudding. The Raceview Gallery has a fantastic range of photographs of local scenes by Roy McKeown Photography. Also there's the Red Brick Coffee Shop if you need a coffee and a few minutes to relax.
You can find out more about this market and keep up to date with future market dates on their Facebook page here. Let them know if you're intending to go here. A great family day out and you'll be helping to support a great cause as Raceview Mill Market is supporting Dogs Trust at their February event.
Find out more about the work which Dogs Trust in Ballymena does by checking out their website here.