Every year many children, in Ballymena, in their last year of primary school sit a test called the transfer test. In Northern Ireland all school used to have an exam called the 11plus which was optional. After pupils sat their 11plus the results were used to help them apply to secondary schools. However since things have changed it is difficult to know what test is done for what school and so on. A useful guide is available at the Transfer Test website. Take a look below:

Guide to the Transfer Test
When the 11+ was abolished it was replaced by two different transfer tests. They are commonly known as the AQE and the GL.
Which test(s) your child sits depends on which grammar schools your child wants to apply to.
Some grammar schools accept either test but most use one or the other. Our Schools page lists all grammar schools and which test(s) they accept.
See the Key Dates page for a list of important transfer test related dates.
AQE
The AQE's test is called the Common Entrance Assessment (CEA) is set and marked by AQE Ltd in Belfast.
This test is commonly referred to as the AQE.
The AQE is mostly used by the state (non-denominational) grammar schools.
There are 3 assessment papers.
Children may sit two out of the three papers or all three papers: in the latter case the best two scores will count.
Almost all children sit all 3 papers to give them the best chance of a higher score.
AQE scores use a standardised age score with 100 as the mean score.
GL
The PPTC's test is called the GL Assessment is set and marked by GL Assessment Ltd. in England.
The GL Assessment is mostly used by the Catholic grammar schools.
This test commonly referred to as the GL.
There are two assessment papers.
One is an English paper and the other is a maths paper.
Both papers are multiple choice format.
Both papers are taken on the same day.
GL scores use a standardised age score ranging from 69 to 141 with 100 as the mean score.
Pupils are encouraged to sit practice tests at home to help them prepare for the real test. Practice tests can be bought in packs and filled in by your child at home to help them know what to expect. Waterstones in the Fairhill in Ballymena sell transfer papers for the AQE and GL tests. Their staff are knowledgable and will help you to get exactly what you need.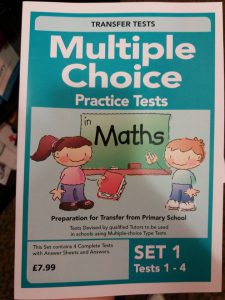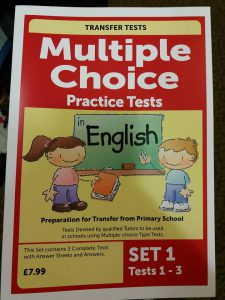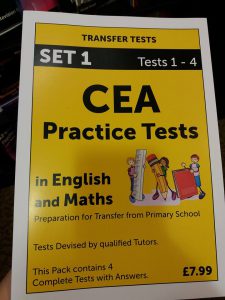 To find out what test you need to do for each school click here to see a list which will help you know what to buy.