Two Alzheimers Society Training courses for Informal Caregivers will be taking place shortly in Broughshane and Ballymena. These courses are FREE and will run for 6 weeks in each of the 2 locations.
Broughshane House, Main Street, Broughshane
Starts Thursday 27th April 2017 from 2:00 – 4:00pm. Continues on consecutive Thursdays – 4th, 11th, 18th & 25th May and finally 1st June.
Ballymena North Business and Recreation Centre, Cushendall Road, Ballymena
Starts Friday 28th April 2017 from 2:00 – 4:00pm. Continues on consecutive Fridays – 5th, 12th, 19th & 26th May and 2nd June.
A spokesperson for the Alzheimers Society told Ballymena Today.
"We ran this course in Cullybackey in March and we had a great attendance. These 2 courses coming up will give other informal carers an opportunity to learn more about caring for the person living with dementia."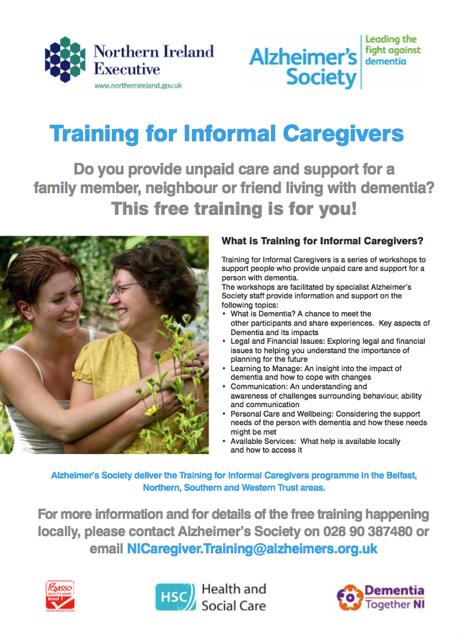 What you can expect if you attend the Alzheimers Society Training Courses for informal carers in Broughshane and Ballymena.
These courses are aimed specifically at informal carers. Anyone who provides unpaid care and support to a family member, neighbour or friend living with dementia. The training aims to help people understand more about the condition and its symptoms. This includes the sort of behaviours that people may display, which can be challenging at times. By understanding more about dementia, the training helps people to cope better with supporting the individual.
The training also provides an opportunity for those supporting a person with dementia to talk openly in a friendly and confidential environment.  Also to share their experiences and the impact it is having on them.
Support and advice will be given on the following topics:
What is dementia?
Legal and financial matters
Learning to manage stress & coping techniques
Communication skills
Health, self-care and well-being
Local services available
Here's a comment from someone who has already benefited from attending a similar course.
'I feel 100% more capable to deal with my future now. The course has taken away a lot of the fear of the unknown. I know I can refer to all the leaflets and notes when I am dealing with difficult behaviour as it happens. The trainer's good solid advice and meeting other carer's has been completely invaluable'  – Patricia.
Would you like to know more about these courses or book your place on one of them? If so, get in touch with Sarah McLaughlin on 07860 258728  or email Sarah.McLaughlin@alzheimers.org.uk
Want to find out what else Alzheimers Society in Northern Ireland can do to help? Click on their website here for lots more information.