Ballygally Castle loves Game of Thrones
Game of Thrones series 7 is about to arrive on out televisions and none are more excited than Ballygally Castle. Ballygally Castle have put together the ultimate fan day which we think could be the perfect Father's Day treat for a special Dad!
Ballygally Castle have arranged a Game of Thrones tour where you can explore the stunning Antrim & Causeway Coastal route which has provided the backdrop for many of the epic battle sequences. The next tour is on Friday 16th June, but if that is too soon there is also one planned for August and September.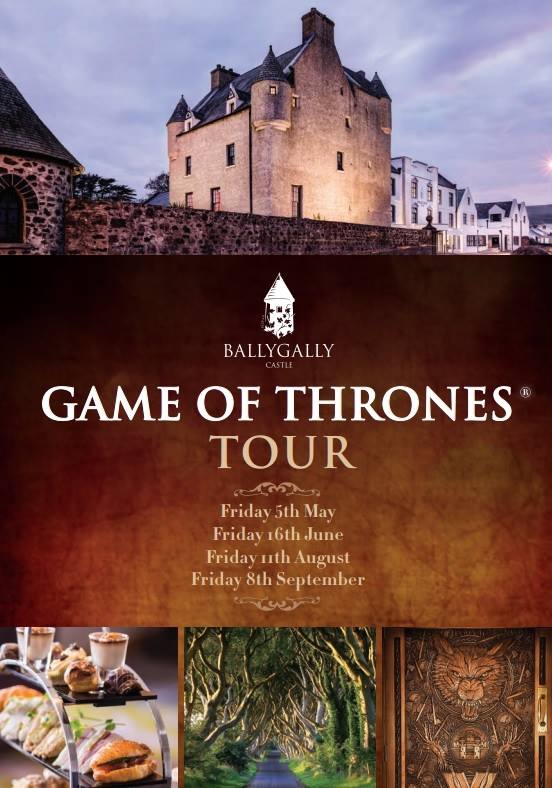 Game of Thrones Package Tour – All the details you need!
HBO's award-winning television series Game Of Thrones was filmed in the areas surrounding Ballygally Castle, with cast and crew from the series frequently found at relaxing at the Castle. The stunning scenery within the Causeway Coast and Glens was used to represent everything from Winterfell to the King's Road, The Iron Islands to Stormlands. Now you too can stand on the spot where Lannisters schemed, stroll in the footsteps of Starks, and gaze on grasslands crossed by the Dothraki horde.

The Causeway Coast and Glens Game Of Thrones itinerary is a three-day voyage of discovery that lets you experience the fantasy world of author George R.R. Martin for yourself. Plotting a path through the scenic splendour of the Seven Kingdoms, it takes you to where so many of the pivotal scenes were shot.

The Game of Thrones itinerary not only brings to life the drama of the series, but also provides a front row seat at locations steeped in local myth and legend, where ancient warriors walked long before leading men. So why not step on to a set like no other, where you can indulge your fascination for Game of Thrones, investigate what the Antrim Causeway Coast and Glens has to offer, and still have time to enjoy the sort of hospitality for which this small corner of the globe is famed. 

When retracing the steps of your Game of Thrones heroes stay at Ballygally. This beautiful 17th Century Castle is centrally located and the perfect base for exploring the Antrim Coast and following the 3 day Game of Thrones itineray!
 Please
click here
to find out all the information about Game of Thrones at Ballygally Castle.