A brand new Media Essentials training programme was launched recently at Ballymena Media Centre. The Media Essentials programme has been designed, planned and implemented by MCC Computers in Galgorm. The first of many training days took place on 12th June, with a team from Garage Door Systems (GDS)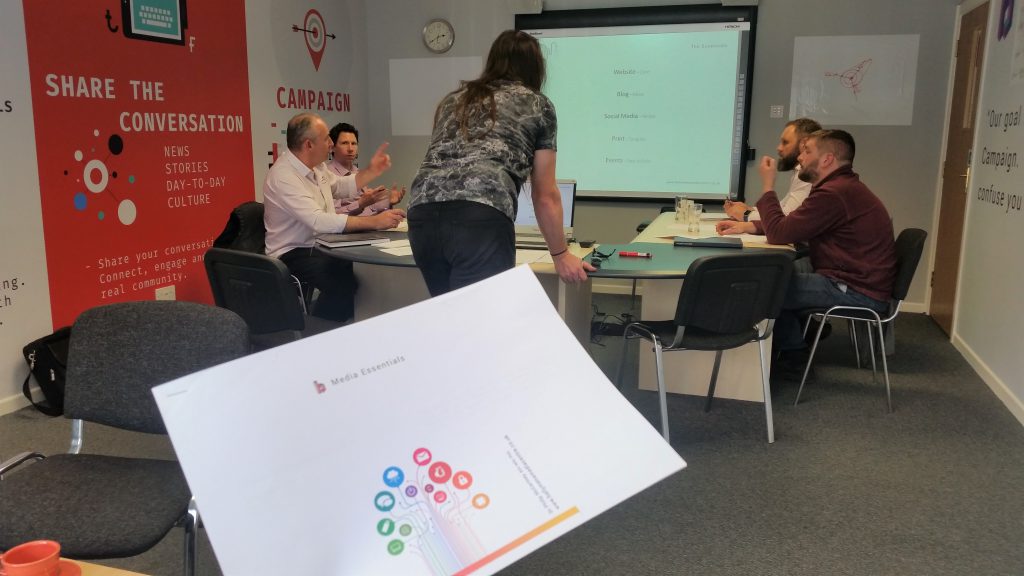 "The course was exceptionally well structured and delivered."
Speaking just before he delivered the first Media Essentials course, we asked Philip from MCC to tell us why he had developed this programme.
"In the past we have ran many training courses including Sage, ECDL and many more as the need arose. We now see the need for this Media Essentials programme. Now is an exciting time for businesses and organisations to use the many forms of media available today for their benefit. This course looks at the essentials. It looks at the breadth of media available to us, not just certain areas, but the bigger picture. It also emphasises that an effective media campaign doesn't need to be difficult. It's about encouraging your business or organisation to find the space to make the most of the many media opportunities, so your message is seen by more people."
Who is the course aimed at?
"The Media Essentials training is for businesses or organisations who are interested in finding out more about how they can use the many facets of media to their advantage. Basically for those who want to get a grip on media!"
The first of many Media Essentials Training days was held recently in Ballymena Media Centre at MCC Computers, Galgorm.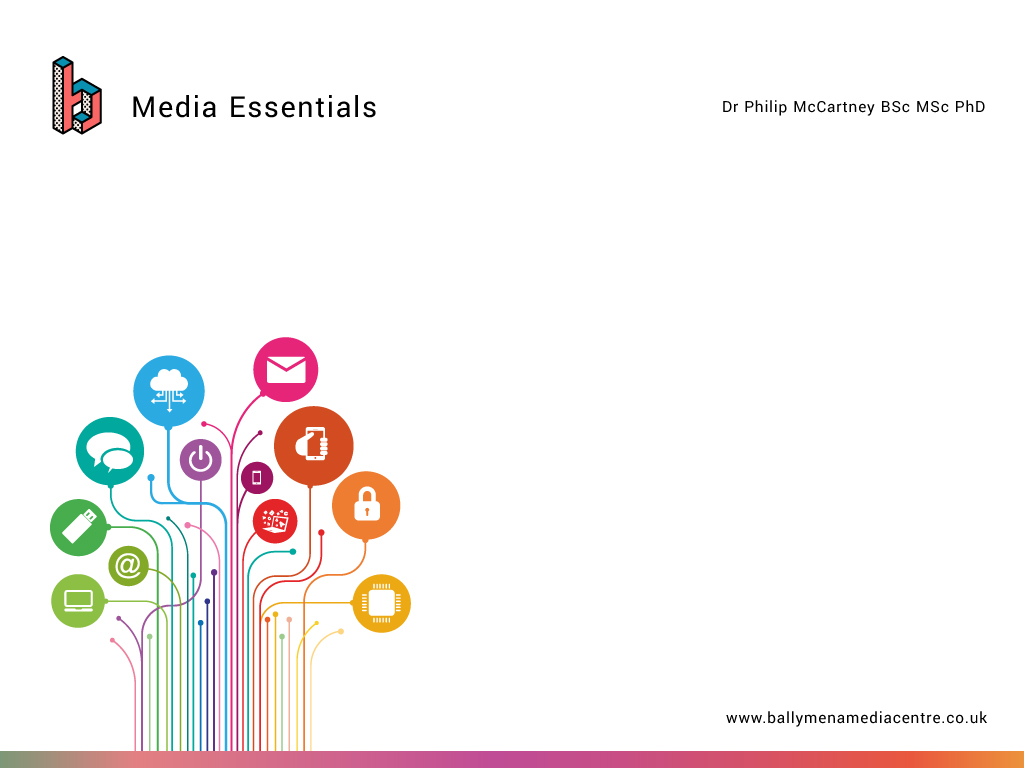 "Whether a seasoned professional or a complete novice the course decluttered the fuzzy and sometimes intimidating world of media."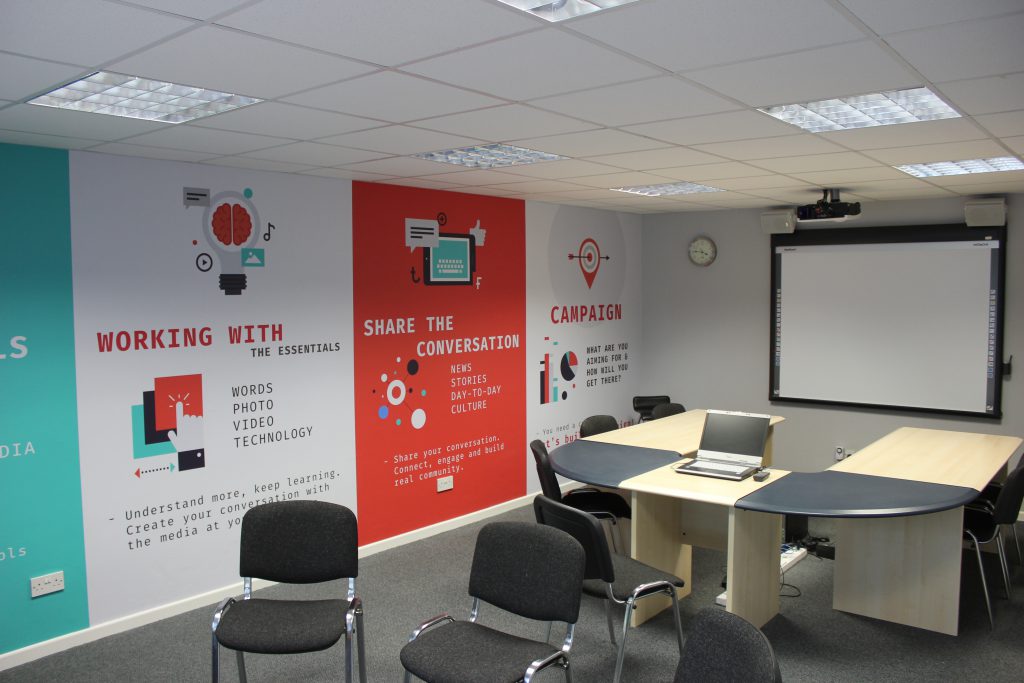 As you can see, Ballymena Media Centre is a bright and vibrant room featuring lots of visuals covering many aspects of what a media campaign should include. Peter, MD of GDS, who attended the first training day commented on the room. "I just love this room. It's perfect for a media centre. The graphics around the room help us to focus on what we need to do to make media the effective business tool it should be"
The day was broken up into short segments covering many aspects of a successful media campaign. A relaxed atmosphere with plenty of tea and coffee on tap! Yet having years of training experience behind him, Philip delivered the content in a clear, enthusiastic and very informative way.
Mark from GDS commented on his experience at the Media Essentials course.
"The course was exceptionally well structured and delivered. Whether a seasoned professional or a complete novice the course decluttered the fuzzy and sometimes intimidating world of "media" into 4 bite sized chunks. It helped identify the go to people within our organisation and the need for a plan and dedicated time to deliver the plan that will hopefully achieves tangible results. It certainly helped raise the focus of this area a few notches within Garage Door Systems to help ensure we are leading the charge and not catching up." 
Talking about how Garage Door Systems will implement the material covered in their business, Mark said.
"As a company, whilst the course content is still fresh in our heads and the positive energy levels following same are still high, we need to look at plan that is both deliverable and executed upon. Otherwise it was just a nice informative day spent with Philip and the team. Like everything in life it's "the doing" that is the hard part but this is what gets the results. I believe we will be in a much better place in 6 months with some dedication, effort and hopefully some fun sharing the Garage Door Systems conversation. We have a great company, great products and great people…we just need to learn how to utilise our skills internally in a structured way to raise our visibility across relevant media and make more people aware of GDS."
Garage Door Systems are based in Wakehurst Industrial Estate in Ballymena. They manufacture and install garage doors throughout Northern Ireland and further afield. The local, privately owned company are renowned for producing high quality doors with attention to design, reliability and safety. It's exciting times for GDS as they are also about to open new premises in Broughshane. This new part of the business is called  Pass Door Systems. They will produce external steel doors for residential use eg to access a garage or outhouse, etc. Click here to read a previous article about what GDS can offer in more detail.
Find out, in more detail, what MCC say about the Ballymena Media Centre in their article here.
Get in touch with Philip at MCC Computers if you think a Media Essentials training day would benefit your business or organisation. All the contact details are on the Ballymena Media Centre website here.