Weddings Ballymena – Real Life Wedding Weekend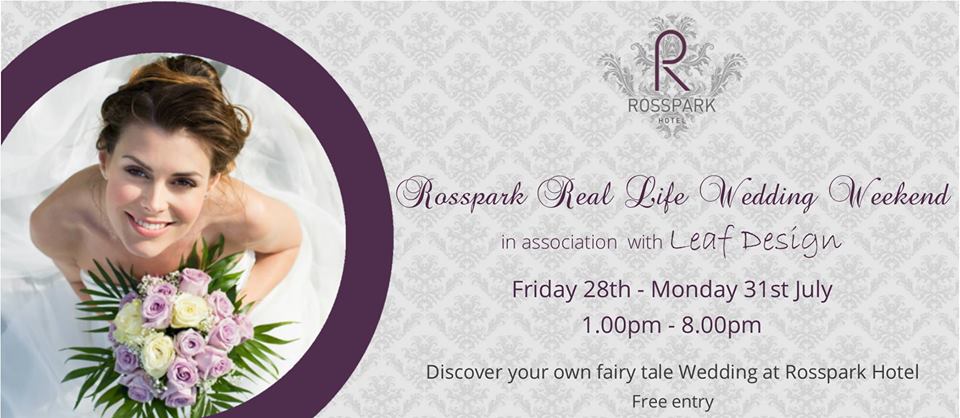 Rosspark is a beautiful wedding venue located just outside Ballymena. Rosspark are holding an event which is perfect for any newly engaged couples – or anyone who is currently planning their big day. The Real Life Wedding event will be held from Friday 28th – Monday 31st of July and there will be lots to see – from 1pm -8pm.
Weddings Ballymena – Real Life Wedding Weekend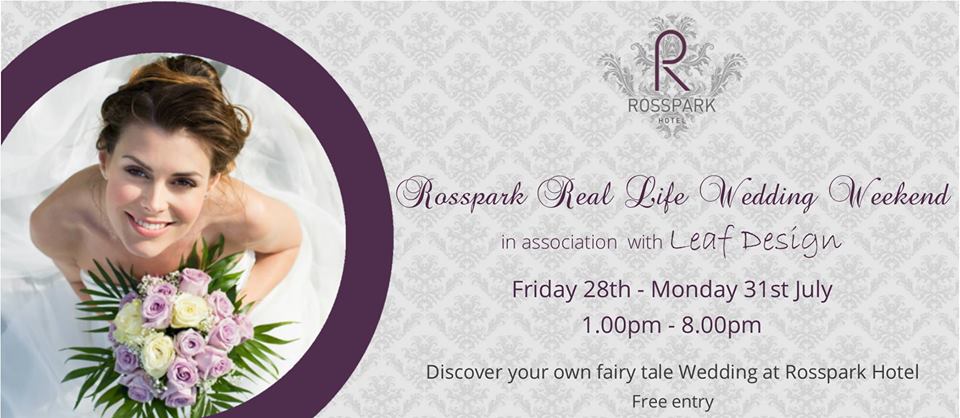 Here are all the details from Rosspark:
Discover everything you'll ever need for your perfect wedding at Rosspark Hotel.
Discover our stunning Ross Suite and sumptuous bridal suite in our delightful lush grounds;
Discover why, because of our attention to detail, we host just one wedding per day,
Discover a perfect day that is truly your own.

View Rosspark Hotel as it would look on your wedding day, where our Ross Suite will be fully dressed in all its opulence and grandeur. This is the perfect opportunity for you and your partner to experience Rosspark Hotel, fully dressed by our fabulous partners Leaf Designs and set up for a wedding, enabling you to visualize your very own special day.
If you have yet to decide on your perfect wedding venue, our team of experienced Wedding coordinators will be available to discuss your forthcoming wedding requirements.

This is also an opportunity to discover our fabulous new packages.
The Real Life Wedding Weekend is your perfect chance to experience Rosspark Hotel in all of its glory. Enjoy a glass of bubbles and wander around the grounds; Ross Suite and fabulous Honeymoon Suite at your leisure.
We hope to welcome you to Rosspark Hotel for this very special weekend
Discover Rosspark Hotel

Please note that suppliers will not be in attendance at this event – it will be used to showcase Rosspark Hotel only. Our next Bridal Fair will be held on Sunday 15th October.
Click here to find out more and click here to visit the Rosspark website. We at Ballymena Today think that Ballymena has so much to offer anyone who is planning their wedding. Click here to view our full Weddings Ballymena category.