Alzheimer's Society Has Opened A New Office in Cullybackey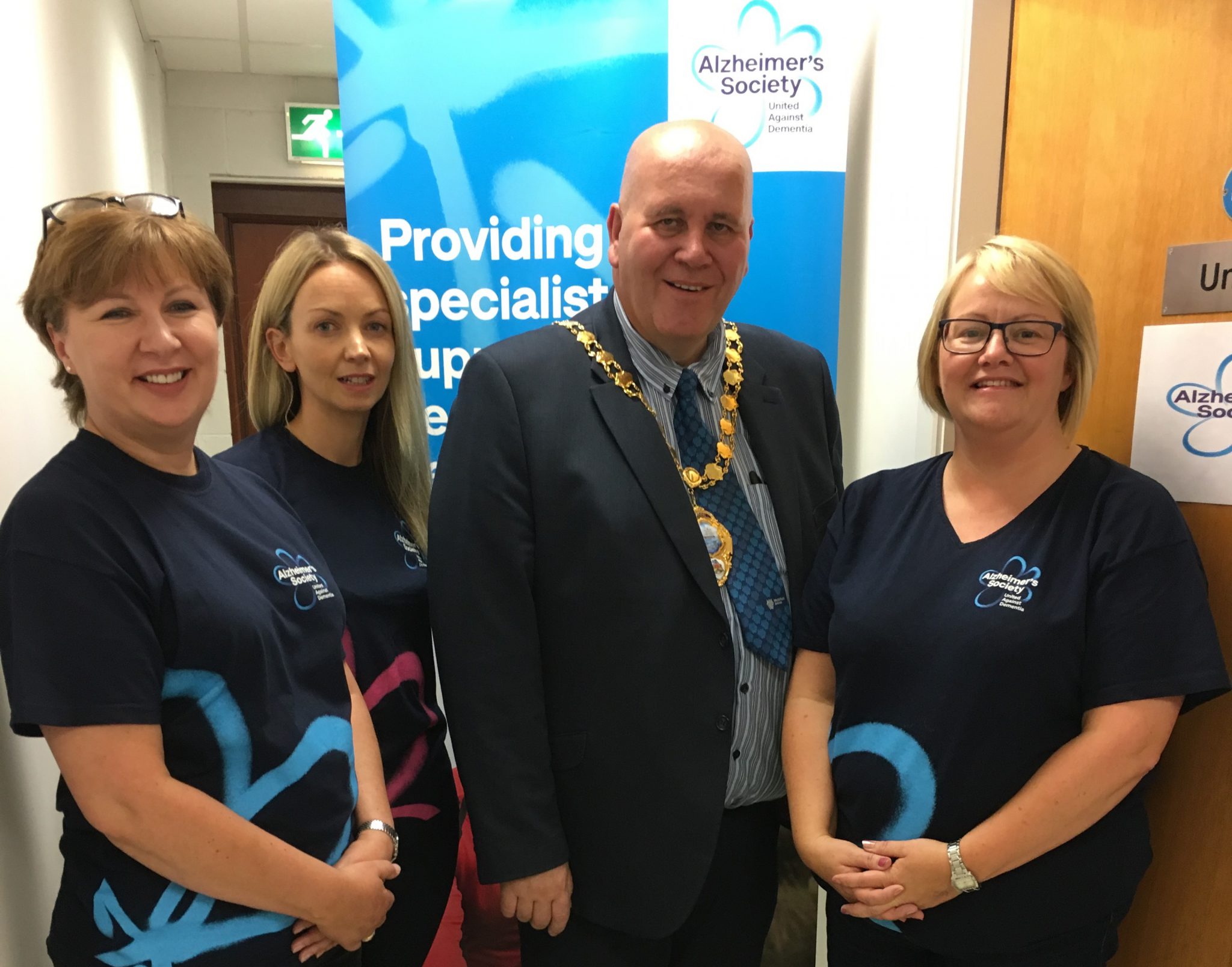 We were really pleased to hear that the Alzheimer's Society has opened a new office in Cullybackey. This facility will give local people and their families who are affected by dementia, an opportunity to access much needed support. Here is what the Alzheimer's Society have to say about the new facility.

People and families affected by Dementia in Antrim and Ballymena will now be able to access support and services at Alzheimer's Society new office in Cullybackey.

Alzheimer's Society's new Antrim/Ballymena Office was officially opened in the village by the Mid and East Antrim Mayor Cllr Paul Reid who joined staff and volunteers. Councillor Paul Reid, said: "I was hugely honoured to be invited to open Alzheimer's Society new office in Cullybackey.

I congratulate and thank those involved in delivering this crucial service which will be a real lifeline for everyone affected by dementia.

Mid and East Antrim Borough Council works with a number of charities including Alzheimer's Society to raise awareness and improve services for people with dementia. Council will continue to support and empower our citizens to build stronger and sustainable communities as a result. This in turn will help build stronger, safer and healthy communities, which is one of Council's top priorities."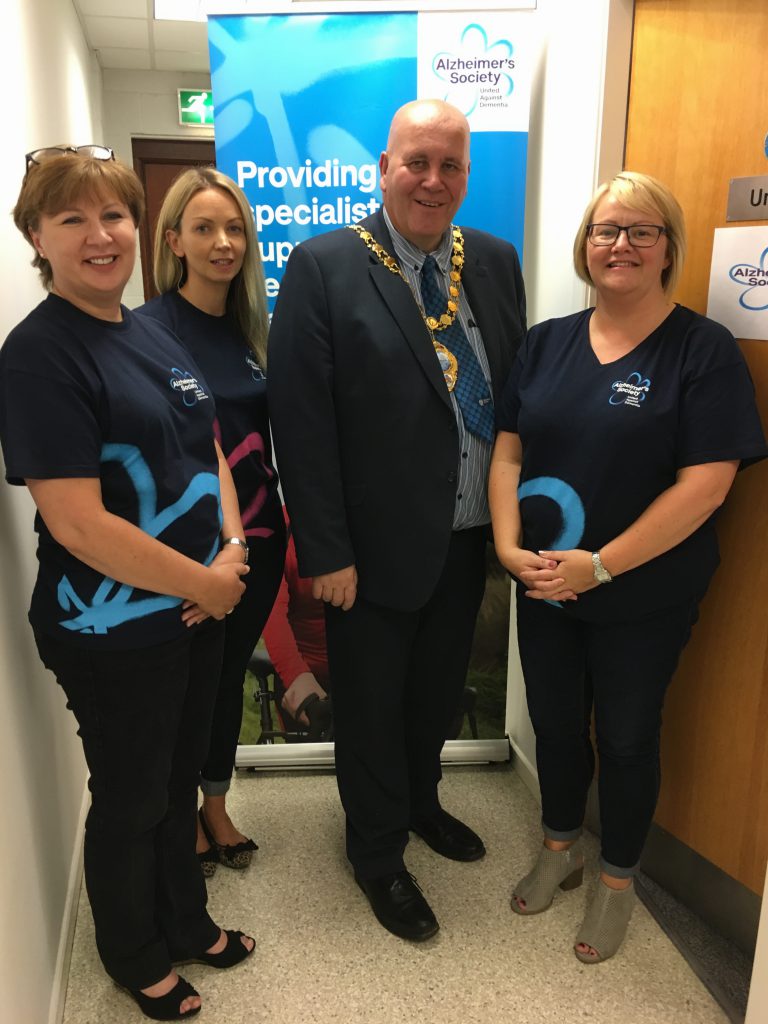 Alzheimer's Society has opened a new office in Cullybackey which will enhance their support for those affected by dementia in the local area.
Alzheimer's Society was brought to the area in 2006 by Valerie Guthrie and her mother Margaret Gurney who both started a volunteer fundraising group for the charity just before Valerie's father, passed away with Dementia in 2007.  Valerie has been the Dementia Support Worker now for almost 4 years.  A strong group of volunteers still fundraise and raise awareness in the area. Margaret was awarded the B.E.M for her dedication and services to the charity in 2015.

"Alzheimer's Society is working tirelessly to find a cure, and we believe we will. Until then we are here for everyone affected by dementia. But we know we can't work alone! We are asking the whole Antrim/Ballymena community to unite with us against dementia. Whether that is by volunteering time, raising funds, supporting our campaigns or becoming a Dementia Friend. Everyone can do something. This is already happening here – Dementia Friendly Communities springing up and businesses are training staff as Dementia Friends. We get so much support from fund raisers and from people who support our campaigns. Without our volunteers we wouldn't be able to offer the service we do. We can't say a big enough thank you to everyone in Antrim & Ballymena," Valerie said.
Adrian Friel, Services Manager for Alzheimer's Society in the Northern Trust area, said.
"Moving to these new offices will allow us to provide vital support to those affected by dementia in the Antrim/Ballymena area, but what we really need to see is a new deal for people with dementia. Dementia must be more of a priority for our new Executive, whatever form it takes. People with dementia have rights – and we are determined to help people in the Antrim/Ballymena to exercise their rights and live full and meaningful lives."

"In the eleven years Alzheimer's Society has been in the Antrim/Ballymena area, we've already seen huge changes. We are overjoyed to open this brand new office to ensure we can now offer a modern professional service to anyone either today or tomorrow who may need information support and signposting," Adrian said.

Valerie added,

"Being diagnosed with dementia can be a daunting and bewildering experience, but with proper support from your dementia support worker and other staff members we can together enable people to take control of their lives and make sense of what is happening to them.

The Alzheimer's Society can provide individual support through one to one dementia support visits. We also run local services including activity groups and monthly carers support groups in Antrim and Ballymena. We offer awareness sessions, Dementia Information Programmes, and an in-depth, free four-week Training for Informal Caregivers programme. This is available to anyone who provides unpaid care to a person with dementia, however informally."
Look out for the Dementia Community Roadshows in this area.
"In September we are excited about welcoming the Dementia Community Roadshow to the area. We would love everyone to join us at our events at Antrim Area Hospital on 7th Sept. Also at Creative Gardens, Galgorm on the 8th Sept." Valerie said.

Alzheimer's Society has a National Dementia Helpline available to anyone who needs advice on dementia. Maybe that's just needs a friendly ear to listen – 0300 222 1122 . Also information is available online here.
For more information locally, please contact Valerie Guthrie by email at antrimballymena@alzheimers.org.uk or click here to find support near you.