Today has been christened Blue Monday by scientists who created an equation to find out when the worst day of the year is. They have declared that it is the third Monday in January – we have broken our New Year Resolutions, our next ay check will be going towards paying off our Christmas debts, the weather is dark and dreary. All this combined together would make anyone feel blue but depression and anxiety isn't confined to one day of the year.
With that in mind we would like to high light some help – help that isn't just for today but today could be the first day of the rest of your life. Lets turn Blue Monday into a positive step by taking a moment to think about our own mental health.
Turn Blue Monday into Brew Monday
Samaritans have echoed our feelings about Blue Monday and have come up with Brew Monday. We think it is an excellent idea.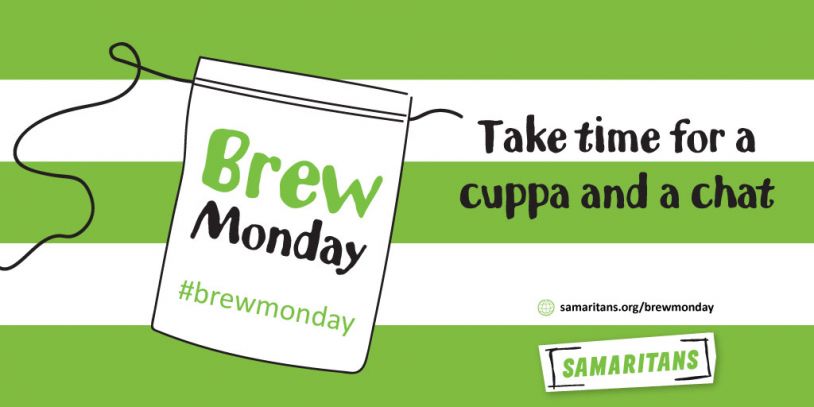 Kettle, two cups and a brew!

Last year, on Monday 16 January 2017, we asked people to do something really simple and really practical to help others:

A cuppa and a chat with anyone who may be going through a tough time – to show you care and raise awareness that listening can save a life.  People from all over the UK and Ireland came together with neighbours, colleagues, relatives and friends. 

Check out the various events that took place for #BrewMonday on Twitter or our Facebook Page.

Our celebrity friends

Celebrity supporters including Robbie Williams, ITV's Lorraine, presenters from Loose Women, Vic Reeves, Hussain Manawer, Rachel Parris, Danny Boy Hatchard, Nigel Owens and John Fendley all helped us promote Brew Monday.

(Source)

So here is your challenge today – sit down for a cuppa with someone you care about and just have a chat. Ask them how they are, and enjoy the time set aside to relax, share and have a laugh. Take the opportunity to check in on your friends and family – all you need is a cup of tea.
So lets enjoy Brew Monday and banish Blue Monday for another year.