The New Promo Board at MCC Computers
What do you think of the new promo board at MCC Computers, Galgorm? We think it's really cool!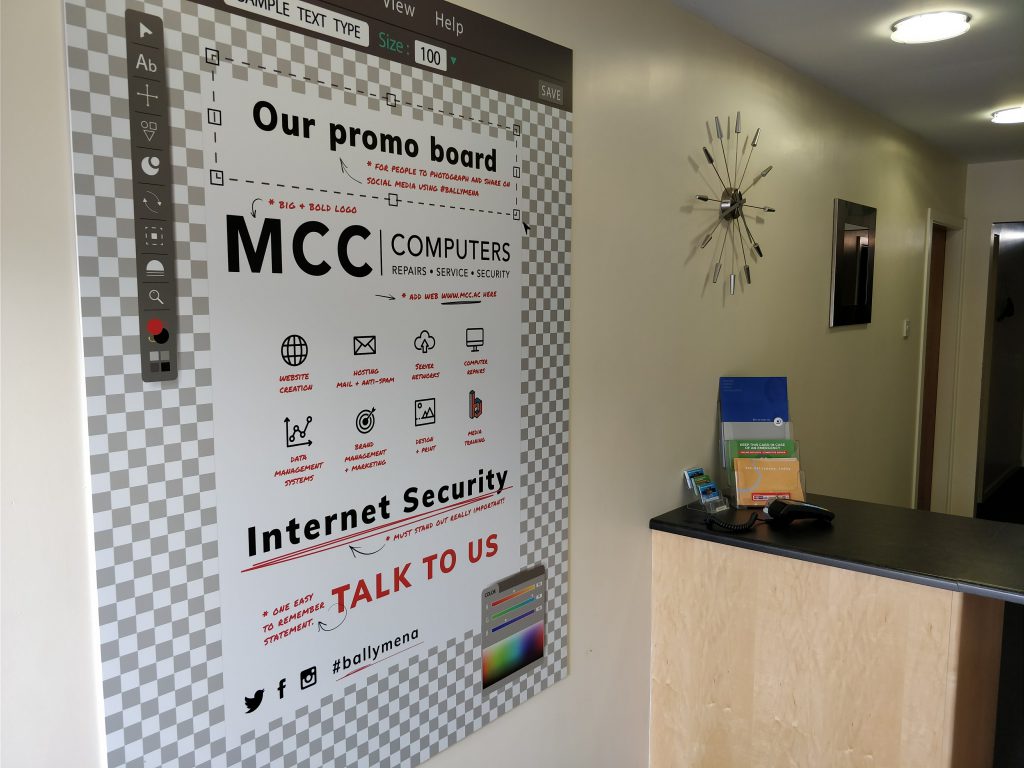 So what is a promo board and why have they put this up?
It's very simple. Every business or organisation needs to let it's customers, clients or supporters know what they do! To some of MCC's customers, especially personal computer & laptop users, they are a local computer repair shop. To others, particularly business owners, they supply computer systems and build, manage and host websites. But MCC Computers are a lot more than that – the promo board is a unique way of getting their message out there. There's also social media & the web, print, events. All of these helping to build community. MCC Computers say, "Every business or organisation should be striving to be effective in all these areas! "
The new promo board at MCC Computers in Galgorm highlights the many aspects of their business.
Brand management & marketing
Website creation
Server networks
Design & print
Data management systems
Media training
Computer repairs
Hosting, mail & anti-spam
Internet security
The promo board also gives a few tips to those wanting to promote their brand.
Use a big and bold logo
Use social media wisely – create a hashtag to help increase traffic eg #ballymena
Highlight and emphasis areas of your business which are topical and important – eg Internet Security
Create a short, sharp strapline – eg TALK TO US
MCC Computers is also the home of Ballymena Media Centre. Here they are currently offering Media Essentials training courses for businesses, churches and organisations. The centre is also the base for Ballymena Today, The Church Page and CoffeeNI.
So whether you are an individual who has a problem with your laptop, or a business owner who knows you need to improve your brand management and web presence, MCC Computers can help you! As they say "TALK TO US".
Check out their website here to see what they can offer in more detail. Speak directly to any of the team on 028 2563 8888. (ask for Gordon or Philip)