No More Traffik Ballymena speak to Ballymena Today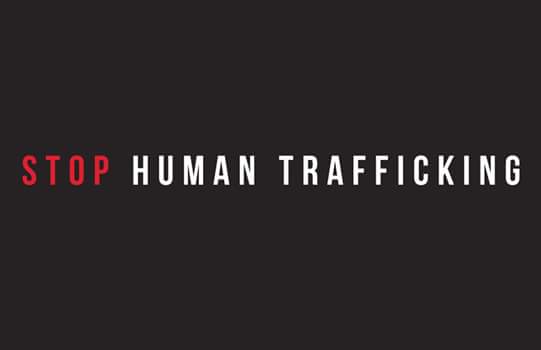 No More Traffik Ballymena introduced their Gift Box to Ballymena over Christmas time. Their mission was to educate people about the traffiking problem locally and worldwide. We at Ballymena Today wanted to find out more about their work.
Rachel from No More Traffik Ballymena, previously known as Stop the Traffik Ballymena, agreed to have a chat with us to bring us up to speed.
No More Traffik Ballymena speak to Ballymena Today
Hi my name is Rachel Taggart, I'm 23 years old and currently work in a local primary school with children who have English as their second language. I joined the No More Traffik (NMT) Ballymena group just under three years ago. At that point I knew the term human trafficking but wanted to know what it actually looks like in day to day life and if there was anything that could be done!
The current statistics say there are 40million modern day slaves in the world today. That may easy to read over and miss the magnitude, but can we even imagine what 40million people looks like? When I first heard the scale of this injustice I struggled to process how that many people could be entrapped and robbed of their freedom, now – in 2018!!
The charity No More Traffik (NMT) exists to 'educate, activate and connect people across Northern Ireland in their response to human trafficking. Through events and projects with partner organisations NMT aim to advocate for & support victims of human trafficking and help be part of the long-term solution in abolishing modern-day slavery'.
There are NMT community groups throughout NI including, Antrim, Coleraine, Lisburn, Belfast and of course our NMT Ballymena group! 

Human trafficking is the movement or recruitment of people
 BY deception or force 
FOR the purpose of exploitation.
To follow the Ballymena No More Traffik group please click here.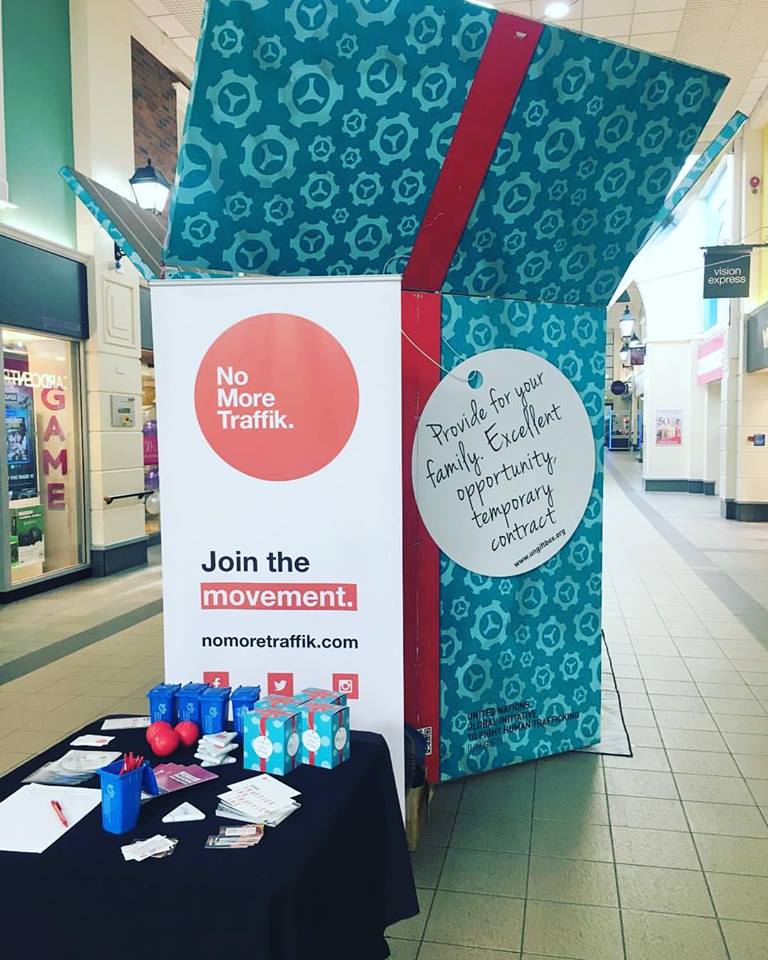 The No More Traffik gift box was in Ballymena before Christmas – what kind of response did you get?
The UN GIFT (Global Initiative to Fight Human Trafficking) Box is a huge, brightly decorated structure that represents a common process of human trafficking. From the outside it looks like a big, attractive present and naturally people are curious to have a look inside and possibly gain something from it! However, once they do wonder inside the narrative changes. The walls are black with prison bar graphics and on them are the true stories of human trafficking survivors, all of whom were trafficked within Northern Ireland – our wee country.
This campaign aims to visualise how easily people can be lured by false promises into a completely different, dark reality.

The Giftbox campaign was really worthwhile and encouraging for us. Some people we spoke with didn't know about human trafficking at all which provided a fantastic opportunity for us to share about what is the fastest growing international crime.
A lot of people shared their knowledge with us and some even told us about their own experiences of spotting the signs of human trafficking and reporting it. We were surprised afresh by just how common this issue is and how often we can see it happening once we know what to look out for.
Thanks to Rachel for speaking to us – and we haven't finished yet. Later this week we will be publishing the second part of out No More Traffik interview. Look out for it!
Facebook: No More Traffik – Ballymena
Email: ballymena@nomoretraffik.com