My Fair Lady & Hairspray – Voiceworks Ballymena
Voiceworks NI are currently rehearsing for their two Youth Summer Productions. Both productions are based in Ballymena and both will be equally exciting and entertaining. We have mention Voiceworks here at Ballymena Today before and if you would like to find out more then click here.
Voiceworks NI will be staging productions of both 'My Fair Lady' and 'Hairspray'.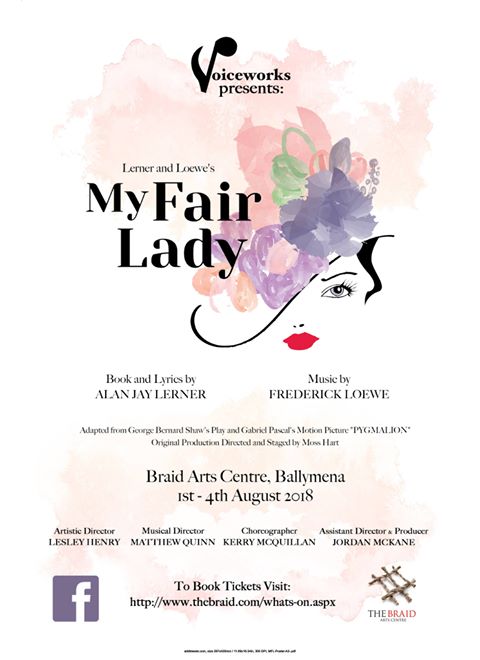 In My Fair Lady Henry Higgins, an opinionated linguistics professor and confirmed bachelor, makes a wager with a colleague that within six months he can transform a cockney flower seller, Eliza Doolittle, into a lady who can take her place in high society. He wins the bet but doesn't bargain for the profound effect she has on his life.
Hairspray tells the story of geeky teen Tracy Turnblad – a big girl with a big heart, big dream, a big crush and even bigger hair- who has to dance her way onto national TV. Can Tracy get the guy and still have time to change the world?
My Fair Lady will be performed on 1st – 4th August and Hairspray will be the main attraction on Saturday 11th August.
Matthew from Voiceworks NI told us this:
Voiceworks is a Ballymena based community performing arts organisation, which provides young people with the opportunity to develop their skills in singing, acting and dancing. We are proud to be an organisation which is passionate about community. In August we are presenting two productions in the Braid Arts Centre.
Tickets can be purchased through the Braid Art Centre website. Click here to purchase tickets for My Fair Lady and here for tickets for Hairspray.
Follow the rehearsals on the Voiceworks NI facebook page.