The Lab @ 65, Portglenone's newest coffee shop, has recently opened at 65 Main Street. After months of hard work creating the space they wanted, the coffee shop opened at the beginning of June 2019.
The interior is stunning with many unique features. The coffee and food are top notch too. They've worked out their formulas just right!  Definitely one to add to your 'must visit' list if you like your coffee shops.
Here's some facts about The Lab –
The glass floor – a large plate glass window on the floor which lets you see into the basement below… but are you brave enough to walk on it?
Curious Roo coffee beans – The Lab is the first coffee shop in Ireland to use Curious Roo beans. Curious Roo is a small batch roastery based in London and committed to bringing great quality coffee to the market.
Many ingredients are sourced locally – eg the beef burgers are supplied by McFall Butchers just a few doors up the street.
Most of the sweet treats and breads are supplied by French Village in Belfast.


We caught up with owners Eunan and Michael to find out more –
What's the significance of the name – The Lab?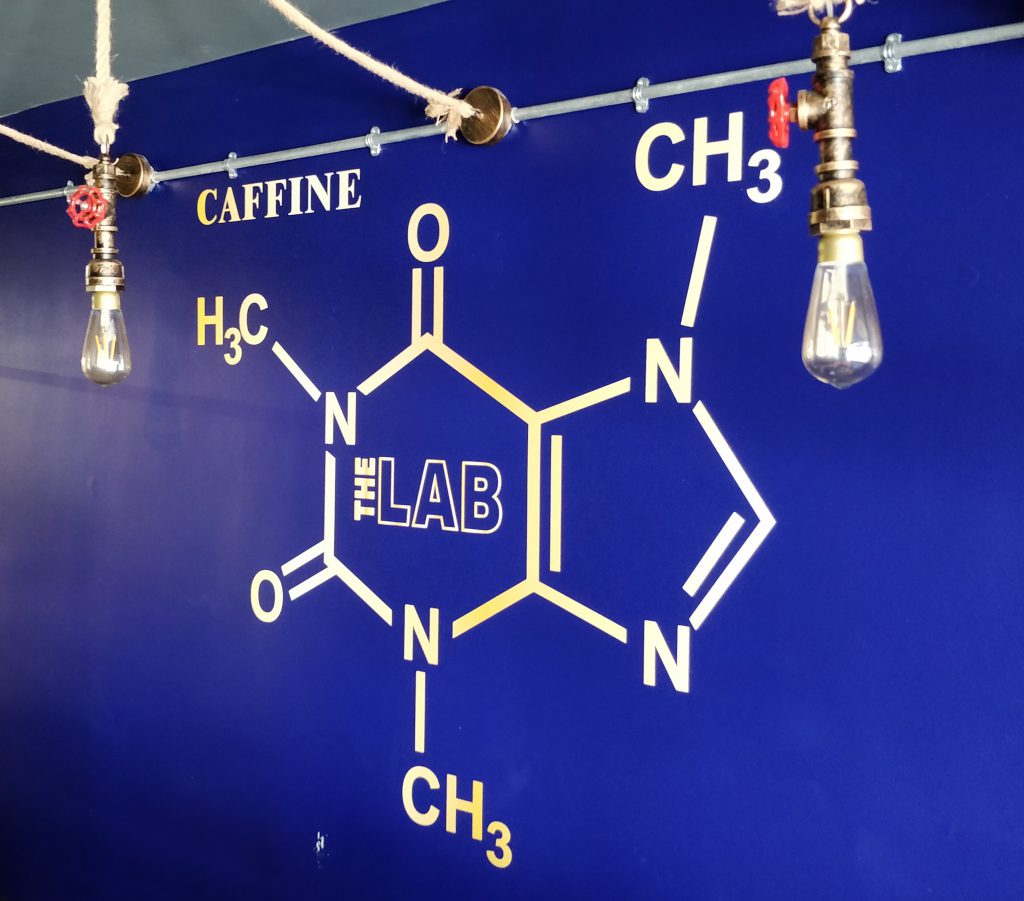 "The thought process behind "The Lab" was that coffee is a science and not just your standard bean to cup approach. Everyday we strictly calibrate our machines to provide the correct coffee dosage that produces the required coffee yield over the desired extraction time. It is a little bit more intricate than some people may think and it takes a bit more time and effort to bring the best coffee to you our customers. 
This science/creative theme developed further with our food menu, and while we are not Heston Bluemental levels we did want to offer something a little more creative and different and will continue to do so in the future, we have many other dishes we will introduce in time as weekly/monthly offerings which we hope will appeal to our loyal following." 
What was your inspiration to create the stunning space you've ended up with?
"Firstly the building played an important part in the design – from the local Bann brick and stone walls with limestone mortar to the hidden basement we came across.
After seeing what we had to work with, we both had a clear vision of what we wanted to create and develop.
Interior design is a passion we both share and really enjoyed bringing it to life in The Lab. We wanted a unique space that people would enjoy being in. We wanted an environment that could bring the big city coffee shop vibe to Portglenone. 
So when you pop in for a coffee, have a look around and you will see some of the science inspired design ideas in-store.
We hope you like what you see and enjoy the taste of the coffee and food."
The Lab @ 65 – Great coffee. Honest food
The Lab is open 6 days a week from Tuesday to Sunday from 9am – 5pm (10am on Sundays) It's also open late to eight on Thursday and Friday evenings. Keep up-to-date with news from The Lab on their Facebook page here. They're also on Instagram here. Better still, why not pay them a visit next time you're in Portglenone.