Country Fest comes to town
Friday 6th & Saturday 7th September 2019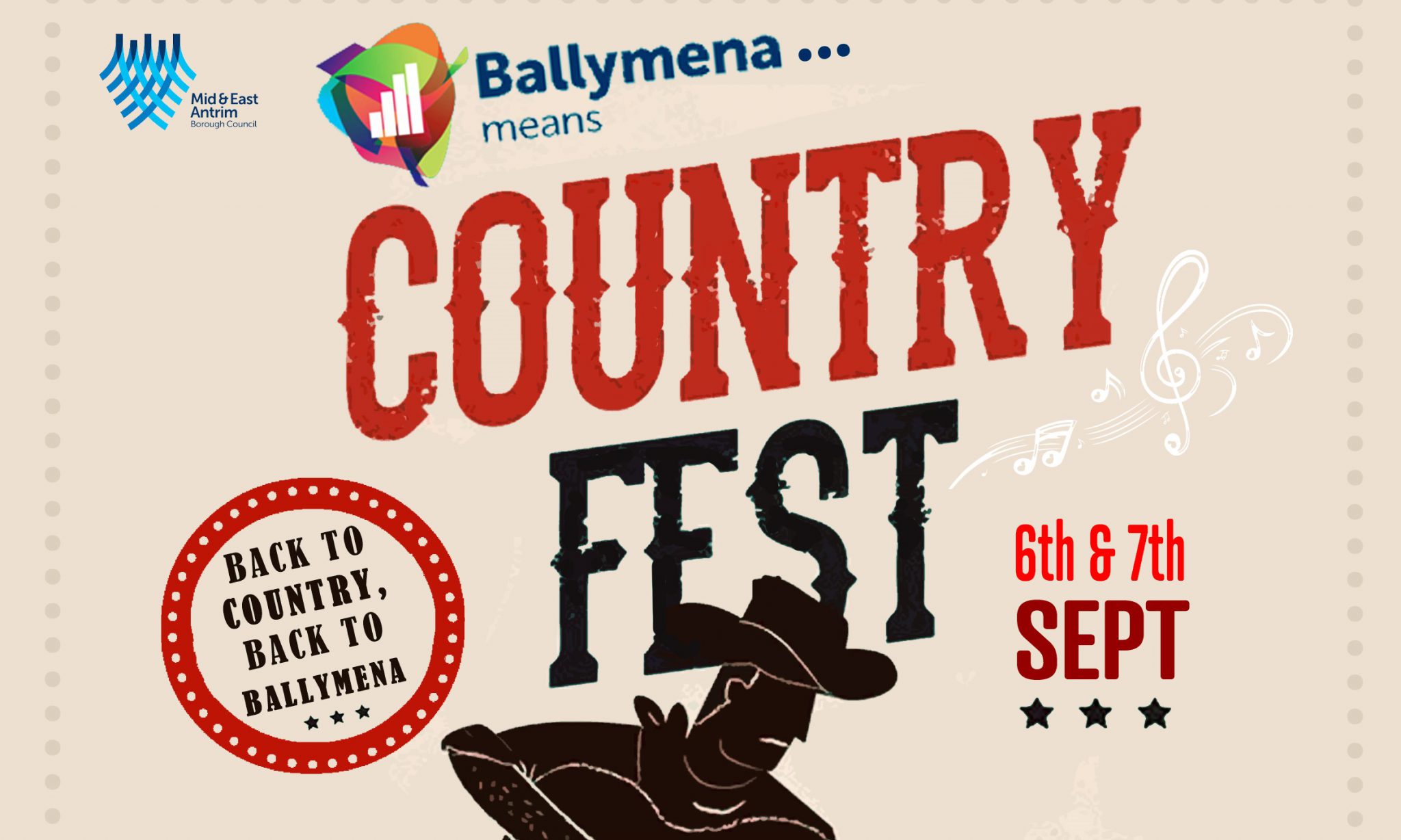 'Ballymena BID and MEA Borough Council have partnered in the Ballymena Country Fest this weekend (6th & 7th September 2019). The two day event will showcase local, new and established country music talents throughout the town centre.'
So if you're in Ballymena at the weekend look out for some great live music in lots of locations as Country Fest comes to town! You'll find musicians at The Harmony Hub, Wellington Court and in many of the town centre shops and bars.
There's a super line-up of contemporary country artists on both days and on Saturday at Wellington Court there's also a FREE FAMILY EVENT. Come along and bring the kids – as well as the music, there will be kids crafts, face painting and more.
Country Fest comes to Ballymena – 6th & 7th September
Country Fest kicks off on Friday from 1pm to 3pm and then on Saturday from noon to 4pm. Entertainment continues both evenings in The Front Page, The Smoking Monkey and The Spinning Mill.
FRIDAY 6TH
1pm – 2pm ~ Amy Allen in Midtown Makers
2pm – 3pm ~ Yasmin Walker in Wyse Byse, Alister Coylis in Camerons, Ellen McClure in Highline Street Kitchen and Chris Madden in Fairhill Shopping Centre
3pm – 4pm ~ Yasmin Walker in Tower Centre, Chris Madden in British Red Cross, Amy Allen in Bluebird, Ellen McClure in Outdoor Adventure and Alister Coylis in Bon Marche
6pm – 8pm ~ Jade Jackson in The Spinning Mill, Ellen McClure in The Front Page and Yasmin Walker in The Smoking Monkey
SATURDAY 7TH AT WELLINGTON COURT (Times are approximate)
12:00 – 12:45PM ~ Sara Crockett
12:45 – 13:30pm ~ Ryan Price
13:30 – 14:15pm ~ Tiernan Heffron
14:15 – 15:00pm ~ Yasmin Walker
15:00 – 15:45pm ~ Ellen McClure
Saturday evening from 6 – 8pm ~ Ellen McClure in The Spinning Mill, Yasmin Walker in The Front Page and Jade Jackson in The Smoking Monkey.
Live music is great for creating a good atmosphere, so why not come into town for what should be a great weekend and support these singers and musicians and while you're there support our great local shops and businesses too.
Keep up to date with details of the 2-day Country Fest on the Ballymena Means Facebook page here.