The next time you're walking on Church Street, Ballymena look out for the fantastic Care For Creation 2020 Community Art Project display in Midtown Makers window. The project was initiated by Ballymena Church Members Forum and has involved local churches, community and youth groups. It has been financed and supported by Mid and East Antrim Council with the guidance of Arts Officer Rosalind Lowry and hosted by Midtown Makers.
Pollution, wastefulness, climate change, the ozone layer, the Australian bush fires – topics which have heavily featured in the news recently. Work began on the Care For Creation project before Christmas 2019 as a way to highlight locally, that we need to be more aware and active in caring for the world we live in. The first result of the project is this super art display of canvasses created by several local groups and individuals.
Participants in the artwork for the Care For Creation display include St Patrick's and St Columba's Church, 5th Ballymena Scouts and Cubs, Youth Club, Church Lads Brigade, Girls' Friendly Society and Mother & Toddler Group members. Individuals who got involved were Anne Todd, Jim Stevenson, Ceri McKervill, Jean & Larry Cunningham, Jessica Fleming, Rosemary Colhoun, St Clare Beatty, Barbara Hutchinson, Karoline K and Liz Brown.
We met up with some of the Forum members and those who had created some of the amazing artwork to find out more. "This Arts Project entitled 'Care for Creation', is part of Ballymena Church Members' Forum 2020 Festival promoting cooperation between local churches and community groups. Through the medium of art, global issues such pollution and climate change are being illustrated."
A number of other churches in the town and district have also hosted workshops led by professional artists. From 23rd to 28th March all the artwork will be exhibited in the Braid Arts Centre and displayed on bus shelters around the town and surrounding villages. "
The Earth is Melting
One of the canvasses, created by the 5th Ballymena Scouts includes this poem which we felt summed up the focus of the project.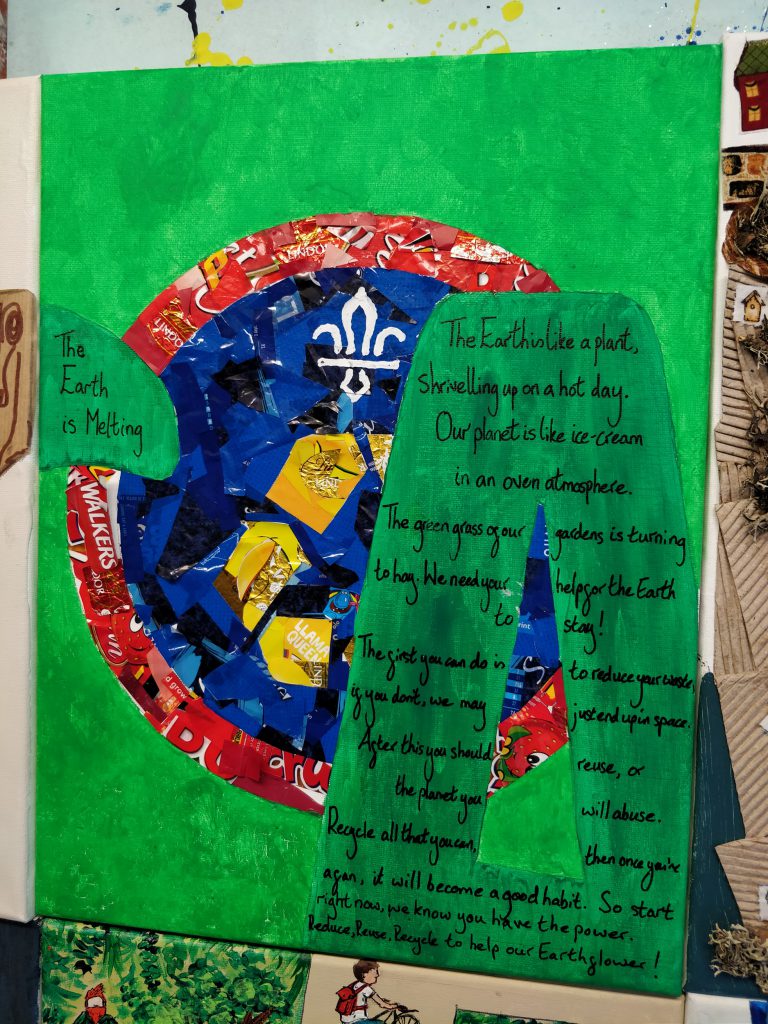 The Earth is like a plant,
Shrivelling up on a hot day
Our planet is like ice cream,
In an oven atmosphere.
The green grass of our gardens
Is turning to hay.
We need your help
For the Earth to stay!
The first you can do
Is to reduce your waste,
If you don't, we may just end up in space.
After this you should reuse,
or the planet you will abuse.
Recycle all you can
Then once you're a fan,
It will become a good habit.
So start right now, we know you have the power.
Reduce, reuse, recycle to help our Earth flower.
Written by Katelynn McCormick and Ruby Fahy – Ballymena Scouts