Many people in the Ballymena area will have got a new computer or laptop for Christmas. If you are one of them are you sure it is Internet safe? It is really important to have good Internet Security software installed to protect it from the many threats including viruses, spyware, ransomware and much more that are all too prevalent today.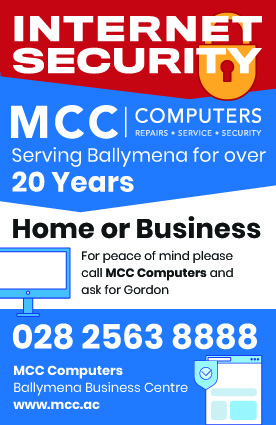 The majority of computers are supplied with only a 'free trial' version which runs out a few weeks after the computer was bought. You may well have started to get messages advising you of this already.
If this is the case for you and you're not sure what's the best option, why not take your machine along to local business, MCC Computers in Galgorm who will be able to check it for you. It doesn't matter where the computer was bought, MCC will be glad to help. With their on-site workshop this can be done quickly and efficiently for you.
The Internet Safety Centre at MCC Computers works closely with award-winning Internet Security company, Avast.
This software can be quickly installed on your computer and is well worth the money as it will give you year-long protection and peace of mind. Online attacks are becoming more frequent and more complex so it is important that the Internet Security package you choose is reliable and able to deal with these threats.
If you would like your computer or laptop checked to make sure it has adequate Internet Security installed on it, whether your machine is brand new or a few years old, why not get in touch with Anne or Gordon at MCC Computers. You can call 028 2563 8888 to book it in or call at their premises in Ballymena Business Centre on Fenaghy Road, Galgorm. For more information about the services offered by MCC, click here to go to their website.