The Braid Arts Centre report this event has now been postponed to a later date.
The Seven Towers Male Voice Choir Annual Concert 2020 will take place on Friday 20th and Saturday 21st March 2020. The venue is The Braid Arts Centre, Ballymena and both evenings will start at 8pm sharp. Admission is £10 per person.
Guest artistes are Erin Peel – cellist and Cambridge House Grammar School Jazz Band.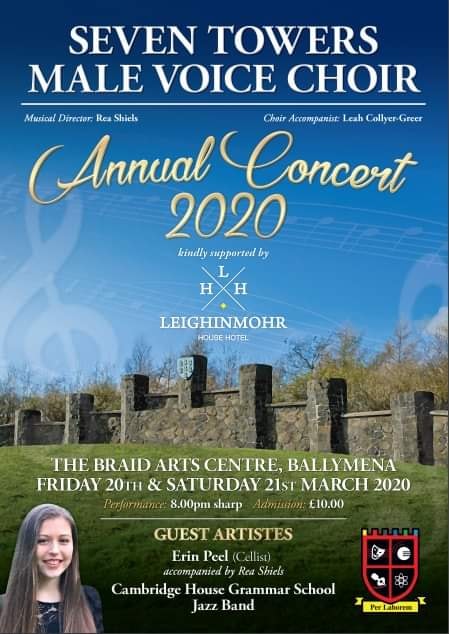 The Seven Towers Male Voice Choir say, "We are delighted to introduce you to our special guests at this year's concert.
Erin Peel
"An exciting young cellist who has been playing from the age of 7. She is already principal cellist with Belfast Youth Orchestra and plays with Ulster Youth Orchestra and North Eastern Board Orchestra. She has been in the final of Northern Ireland Young Musician of the Year in 2018 and 2019 and winner in the String Championship in Carrickfergus Festival. She excelled at this year's Ballymena Festival winning two first places, one second and two bursaries. We are so excited and look forward to hearing this very talented young lady.
Cambridge House Grammar School Jazz Band
"This is a great opportunity to hear some amazing local talent from senior pupils currently studying at Cambridge House. The Jazz band was formed in 2018 and features Alto Saxophone, Bass and Electric Guitar, Trumpet, Drums and singers. These young players will bring much vibrancy to our programme.
"A night not to be missed. Tickets are available at the Braid Arts Centre."
You can keep up to date with news from the Seven Towers Male Voice Choir on their Facebook page here.