Earlier this week Marianne wrote about one of he favourite local Ballymena businesses – Slemish Market Garden. We now know all about their beautiful fruit and veg. But now lets see what else they have on offer at their shop at the Ecos Centre, Ballymena.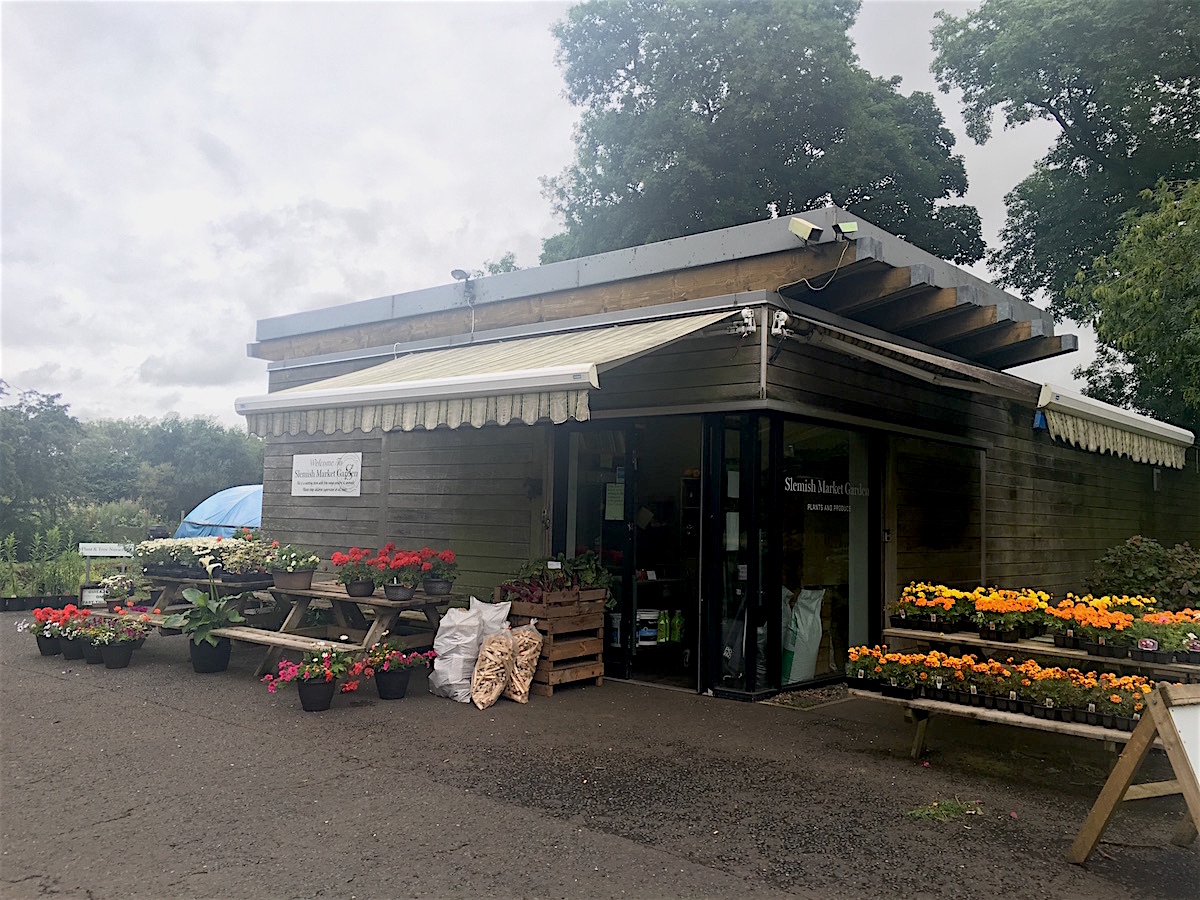 More than just Veg at Slemish Market Garden
It's not all about food at the Slemish Market Garden, they also sell cottage garden plants, fruit trees and bushes and vegetable transplants… all grown in the same way. Frank explained how they work with nature not against it: 'If we were to spray the flowers we would be killing the beneficial insects that pollinate the vegetables. The lack of the bumble bee is really a worry.' As we speak the swallows swoop over our heads and we hear how they are natural predators of greenfly.









Frank, Linda, Matthew and Lori are knowledgeable and passionate gardeners and growers and are happy to share their expertise. What comes across as we are treated to a tour of the beans, marrows, Jerusalem artichokes, Shetland pony cucumbers, berries and currants is the care taken in growing, the hard work and effort from dawn to dusk, and the respect for nature (she can both help and hinder their small business!).
The power of the Facebook page is enormous
Embracing social media as 'vastly' important to business, Frank notes, 'It keeps people in touch with what we do on a day-to- day basis. People are interested. We sell everything through Facebook. Because we are so parochial here, this is like everybody's garden. The power of the Facebook page is enormous.' They can advertise a glut of a crop or let you know what's seasonal and available. They advertise their wreaths and Christmas trees, pumpkins, hanging baskets and window boxes.
Frank also puts up little videos of life on the farm. (Ballymena Today featured one of their videos here.)
Chickens clucking, swallows swooping, banty hens tiptoeing in and out of flower pots and the ubiquitous collie dogs on gentle guard duty (beware rats and foxes, welcome to friendly people); this feels like a little oasis, lost in time to a way of life we often believe to have disappeared. And yet it is very forward-thinking, whether you believe biodynamics is a traditional or modern concept… it is definitely a growing trend in an increasingly health and eco conscious world.
Oh, and you'll be greeted with a warm smile, sage advice and a wagging tail or three.
Find Slemish Market Garden Ballymena on Facebook or at their premises. They are open Monday- Saturday from 9am to 5pm. Please let us know what your favourite Slemish Market Garden purchase has been.
A massive thank you to our Marianne our guest writer. She visited Slemish Market Garden in Ballymena and took the time to create these articles for Ballymena Today.