The Braid in Ballymena plays host to "Songs from the Heart" – a charity concert held to support the needs of teenagers and young adults in Northern Ireland with Congenital Heart Disease (CHD).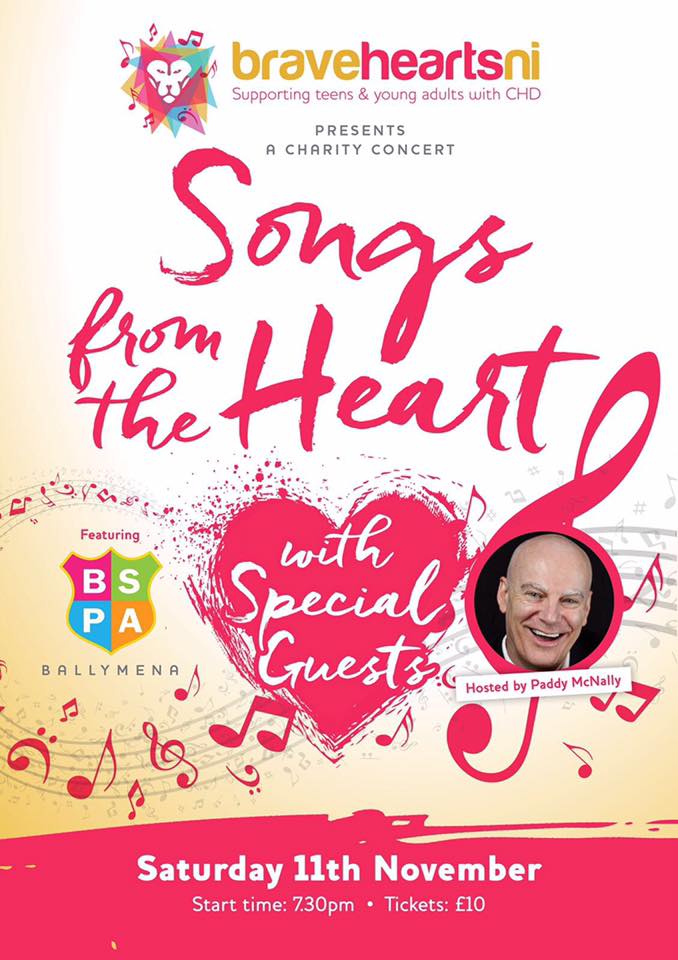 Songs from the Heart – Charity Concert Ballymena
The Bravehearts NI presents a gala evening of song hosted by local singer Paddy McNally. The concert features a number of guests artists from across Northern Ireland who have come together to entertain you in support of this worthy cause. BraveheartsNI is a local charity set up to support the needs of teenagers and young adults in Northern Ireland living with congenital heart disease.
Bravehearts are delighted to announce Conor Taggart as one of their special guests. Ever since a young age Conor has had a profound love for music and in particular a passion for musical theatre and swing style classics. Over the years he has developed his passion acquiring experience in some of the best performance spaces NI has to offer, ranging from 'The Mac Theatre' to 'The Waterfront Hall' and arguably Ireland's finest theatre, The Grand Opera House, Belfast. His versatility and range of skills allows him to bring all of the showmanship required to fill these big venues, to any setting. Conor has been lucky enough to play the lead role in youth productions of the musical Les Miserables 3 times to date, and is currently up and down the country performing at weddings and corporate events with his big band.
Click here to book tickets for this great night out. Tickets cost £10.
Click here to find out more about Bravehearts NI and their events and work throughout Northern Ireland.