Ballymena Lawn Tennis Club Annual Junior Festival will take place this year from 20th to 24th August. The venue is Ballymena Academy and runs each day from 5pm to 7pm. This event is for young people aged from 5 to 16 years old. The entry fee is £30 per player – discounted to £25 for club members.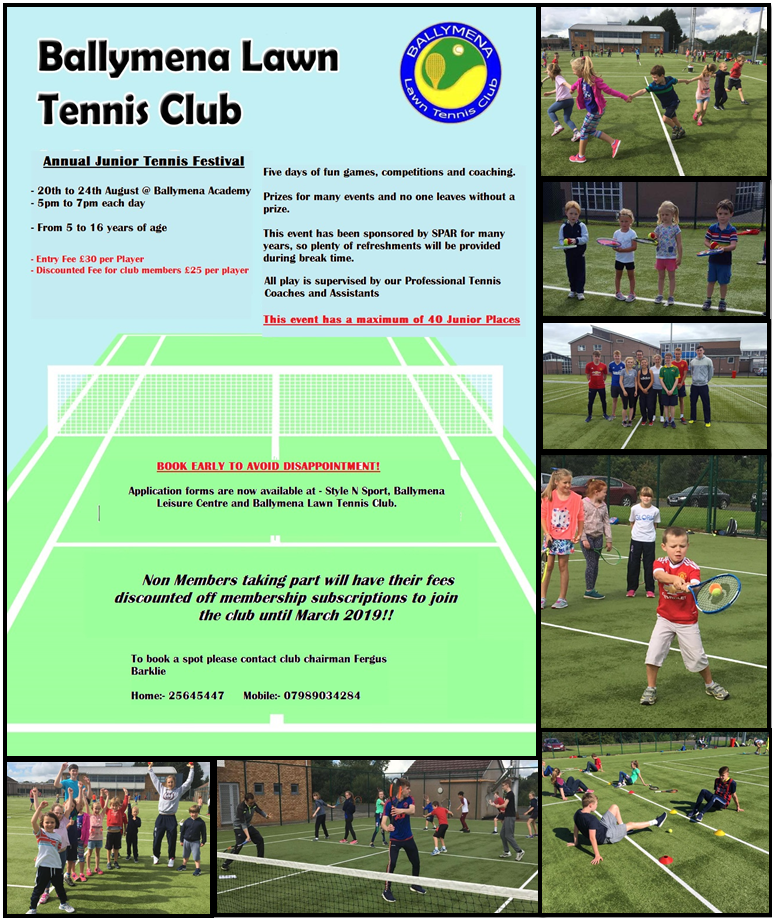 This is a great opportunity for the young folks to get outdoors, to get active, to learn to play a new sport, or get better if they already play. Ballymena Lawn Tennis Club say –
'Five days of fun games, competitions and coaching. Prizes for many events and no-one leaves without a prize.This event has been sponsored by SPAR for many years, so plenty of refreshments will be provided during break time. All play is supervised by our Professional Tennis Coaches and Assistants.'
Here's a review of last year's Festival by a representative from Ulster Tennis.
"It was great to meet you and your team at Ballymena Academy this morning and to see the buzz that your tennis festival is creating! You and your coaches are doing fantastic work encouraging all 49 young players to take up tennis as a healthy sport for life and supporting Club membership!"

Lauren Smythe
UBTI Development Manager- Clubs, Players & Coaches
Ballymena Lawn Tennis Club Annual Junior Festival – 20th to 24th August 2018 at Ballymena Academy.
This event has a maximum of 40 junior places available. You're advised to book early to avoid disappointment. Application forms are now available at Style N Sport, Church Street, Ballymena, the Leisure Centre & Ballymena Lawn Tennis Club.
Non-members taking part in the Festival will have their fees discounted off membership subscriptions to join the club until March 2019.
Do you know someone aged 5 – 16 who would enjoy playing tennis? This week may be the first step for some in finding a new sport they love, and will play for many years! Help us spread the word about this great week of junior tennis coaching and fun organised by Ballymena Lawn Tennis Club.