Creative Citizens Programme of Mid & East Antrim
Street Art Project and Opening Doors art and music project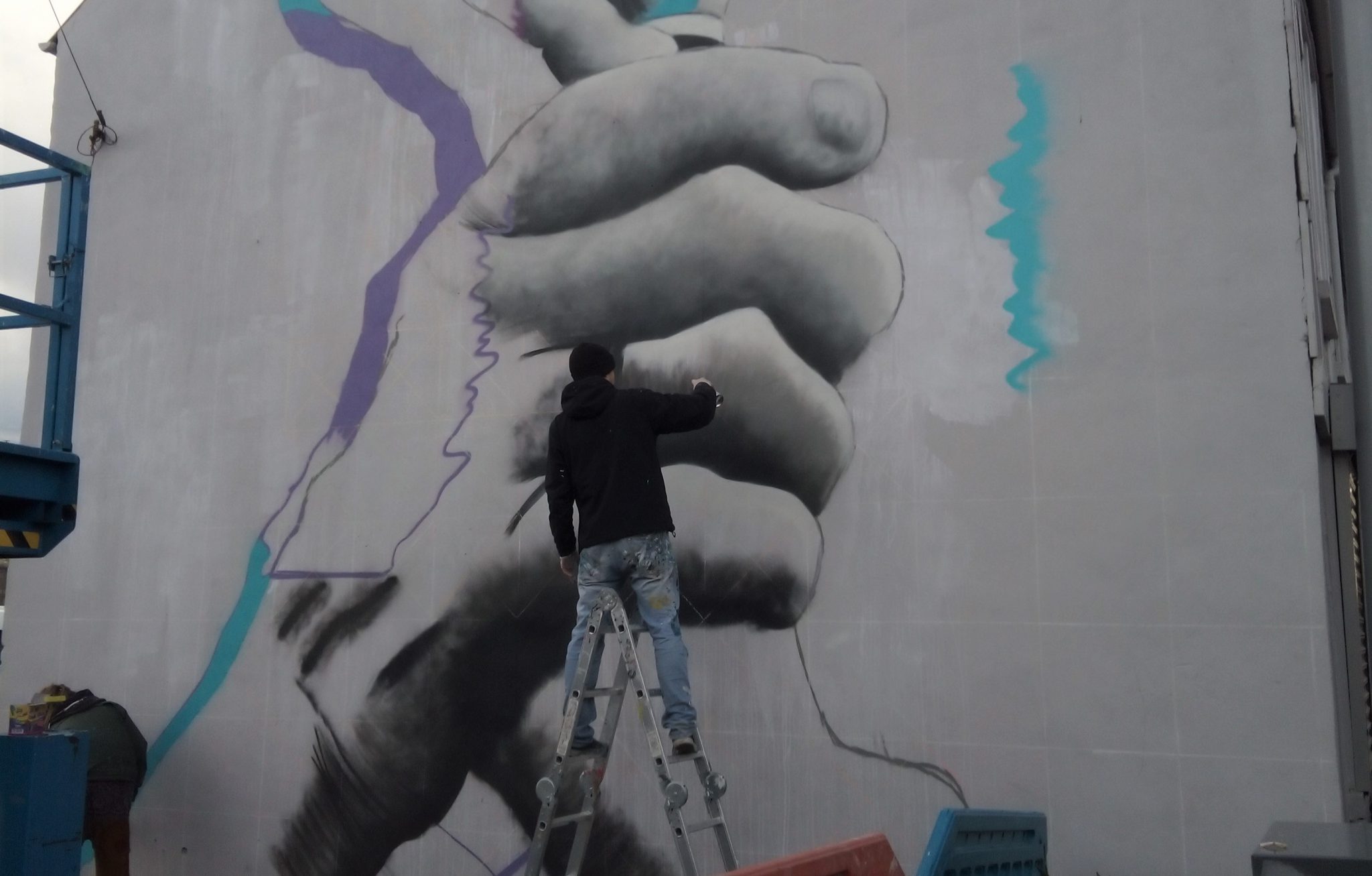 The Creative Citizens Programme of Mid & East Antrim kicks off with new Murals for Ballymena town centre. Look out for the new art work next time you're in town. One is at the Good Morning Ballymena premises on William Street and the other will be on Bryan Street.
Rosalind Lowry, Arts and Development Officer in Mid & East Antrim Borough Council sent us the following press release –
'Thanks to a new Street Art Project delivered by the Arts Service of Mid & East Antrim Borough Council, Ballymena town centre will be home to two fabulous new Murals over the next few weeks.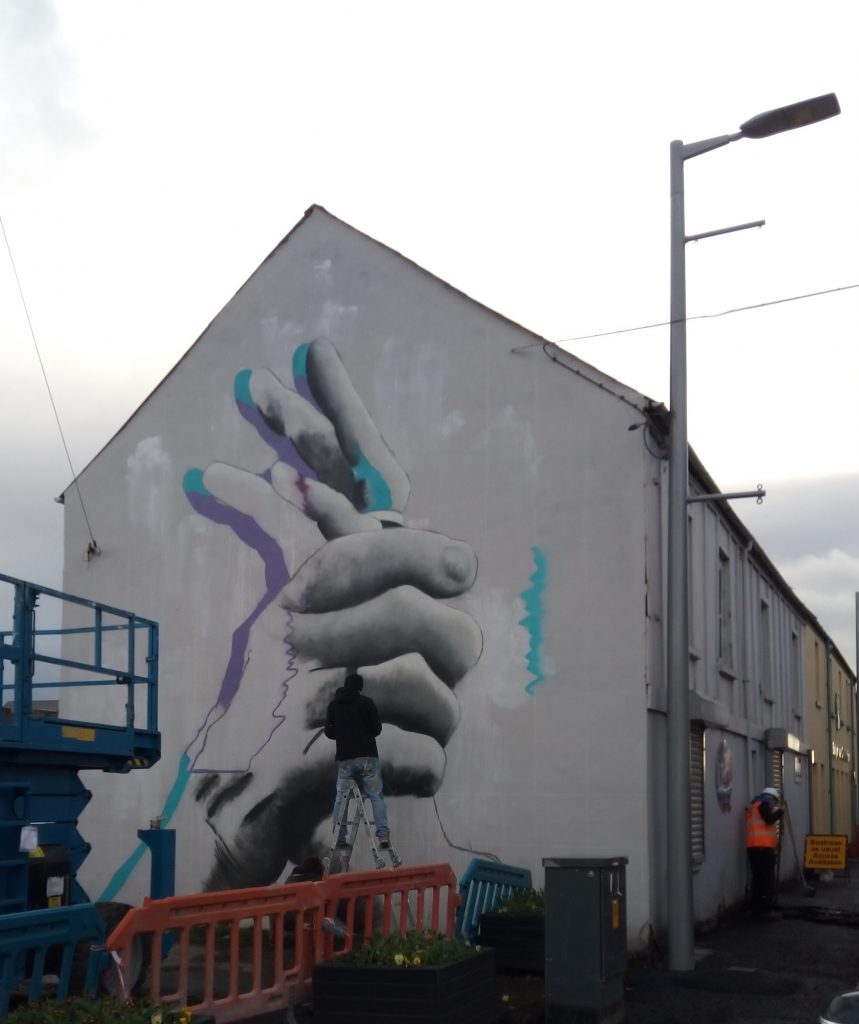 The Good Morning Ballymena centre on William Street has the talented Eoin McGinn creating a piece about the work of the centre and the services they deliver for older people in the Borough.
Eoin has created famous Murals all over Northern Ireland and is currently on site this week in William Street. Call by and say hello!
In the next 2 weeks Street Artists Laura Nelson and Leo Boyd are installing a massive street art Mural for Bryan Street, with support from BID. Look out for a transformed Bryan Street !
These 2 projects are part of a wider Arts Programme being delivered by Mid and East Antrim Borough Council called Opening Doors, where 6 local organisations partnered with the Council Arts Service to create new artworks.
Opening Doors art and music project
Saturday 9th March 2019 at the McNeil Theatre in Larne over 100 local people from the Whitehead Orchestra, Island Voices Choir and Larne Music Yard will be performing a new soundscape music piece called Opening Doors – a music performance created by local people by recording, editing and manipulating local sounds using music technology with references to the Rhinka, the Black Arch and Slemish.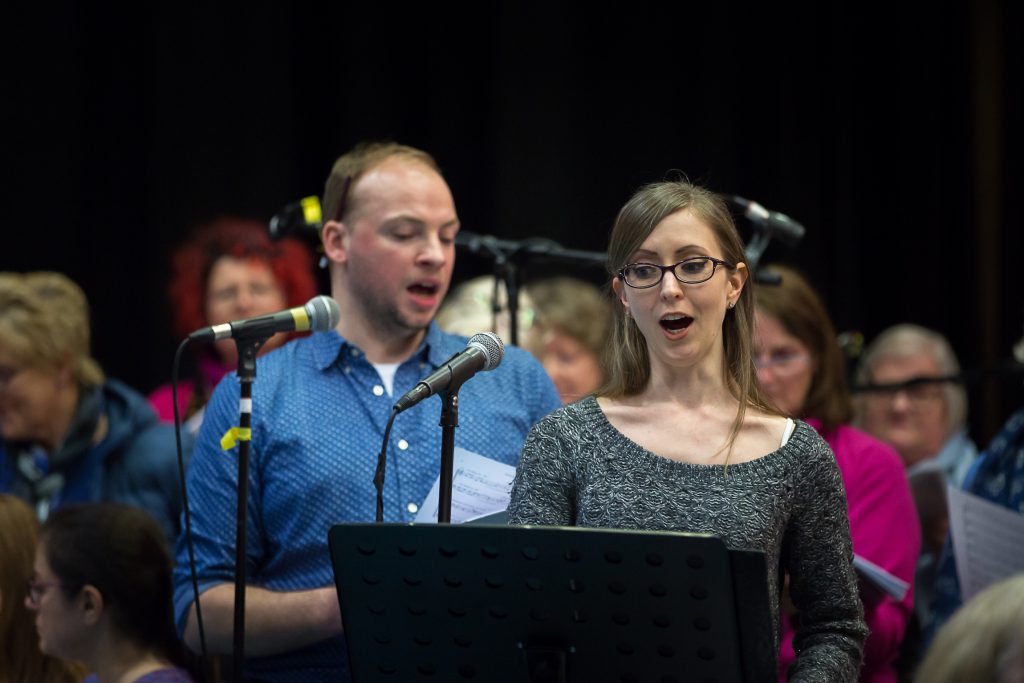 We are delighted that International Soloist Sarah Richmond from Carrickfergus will return home to perform as part of the evening.
Creative citizens from Ballymena, Larne and Carrickfergus have contributed stories and words which have inspired the new work's four movements:1. The View from Slemish, 2. Spinning the Yarn, 3. St Patrick and 4. From Trial to Triumph
Tickets for the event are limited but contact Larne VIC for last minute availability.
Mid & East Antrim Inter Ethnic Forum also created a new poem called Home with Poet Colin Hassard, which will be premiered at the event.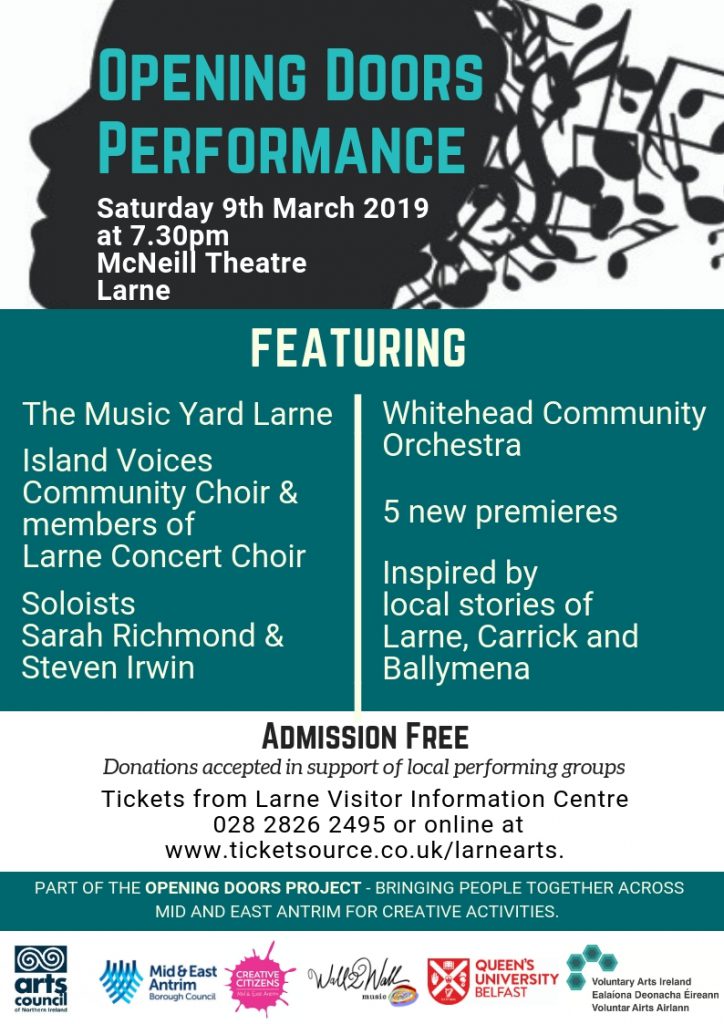 Opening Doors is an art and music project in collaboration with Mid and East Antrim Borough Council , Wall2Wall Music , Queens University and Voluntary Arts Ireland to make new music and art with local people from Ballymena, Larne, Carrickfergus and surrounding areas. It is supported by Arts Council Northern Ireland.'
Click here for more news and information from Mid & East Antrim Council.