Success for Slemish Design Studio Architects at Belfast Telegraph Property Awards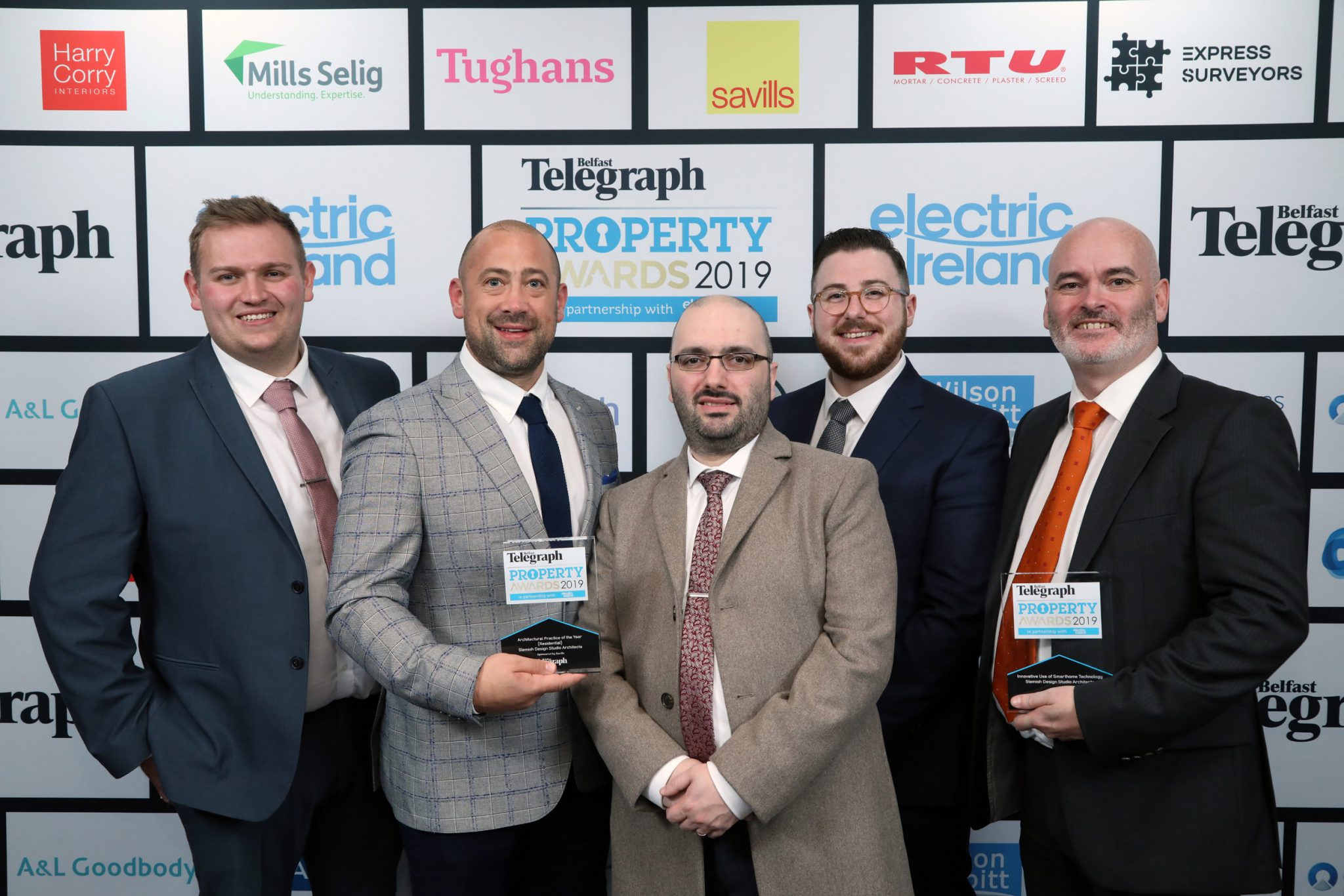 It was double success for Slemish Design Studio Architects at the recent Belfast Telegraph Property Awards. The Broughshane based business picked up two awards at the ceremony held in The Crowne Plaza, Belfast. These were well deserved and a reward for the seven years of hard work put in since the business was started by partners Joe Magill and Steven Bell.
The following press release takes up the story –
Slemish Design Studio are delighted to have been recognised at this year's Belfast Telegraph Property Awards, honouring the pinnacle of Northern Ireland's design and construction industry. It was an event to remember, as the Broughshane based office bagged a double dose of success on the night, picking up two awards in celebration of their architectural success, at the ceremony.
Winning awards for Best Architectural Practice (Residential) and Innovative Use of Smart Home Technology proves that Slemish Design Studio Architects are right at the forefront of quality, evolutionary and sustainable residential Architecture in Northern Ireland. The office engages in both contemporary and traditional architecture, using local traditions and materials appropriate for each site, whilst always ensuring that design and functionality are never diminished.
Practice partners Joe Magill and Steven Bell established Slemish Design Studio Architects in 2012. Since then Slemish Design Studio has welcomed a steady period of growth, securing an array of commissions right across the UK and Ireland. With a total of five members of staff, the office offers a broad range of services to both individual residential clients and a select group of medium volume developers. The office focuses on highly tailored design solutions to very specific needs whilst enjoying the occasional commission of volume house building.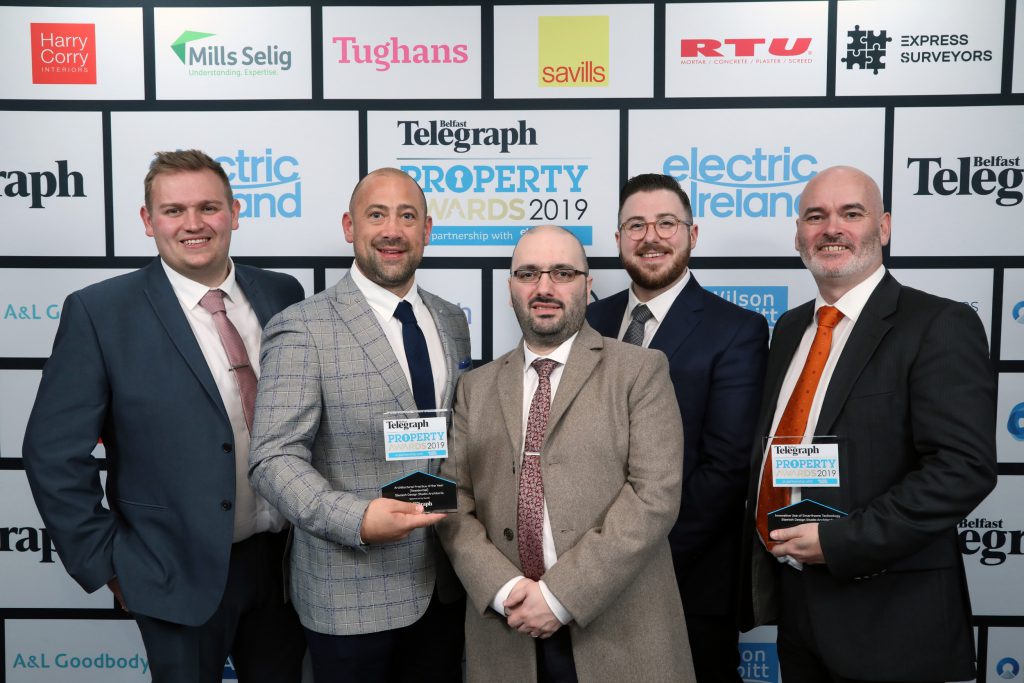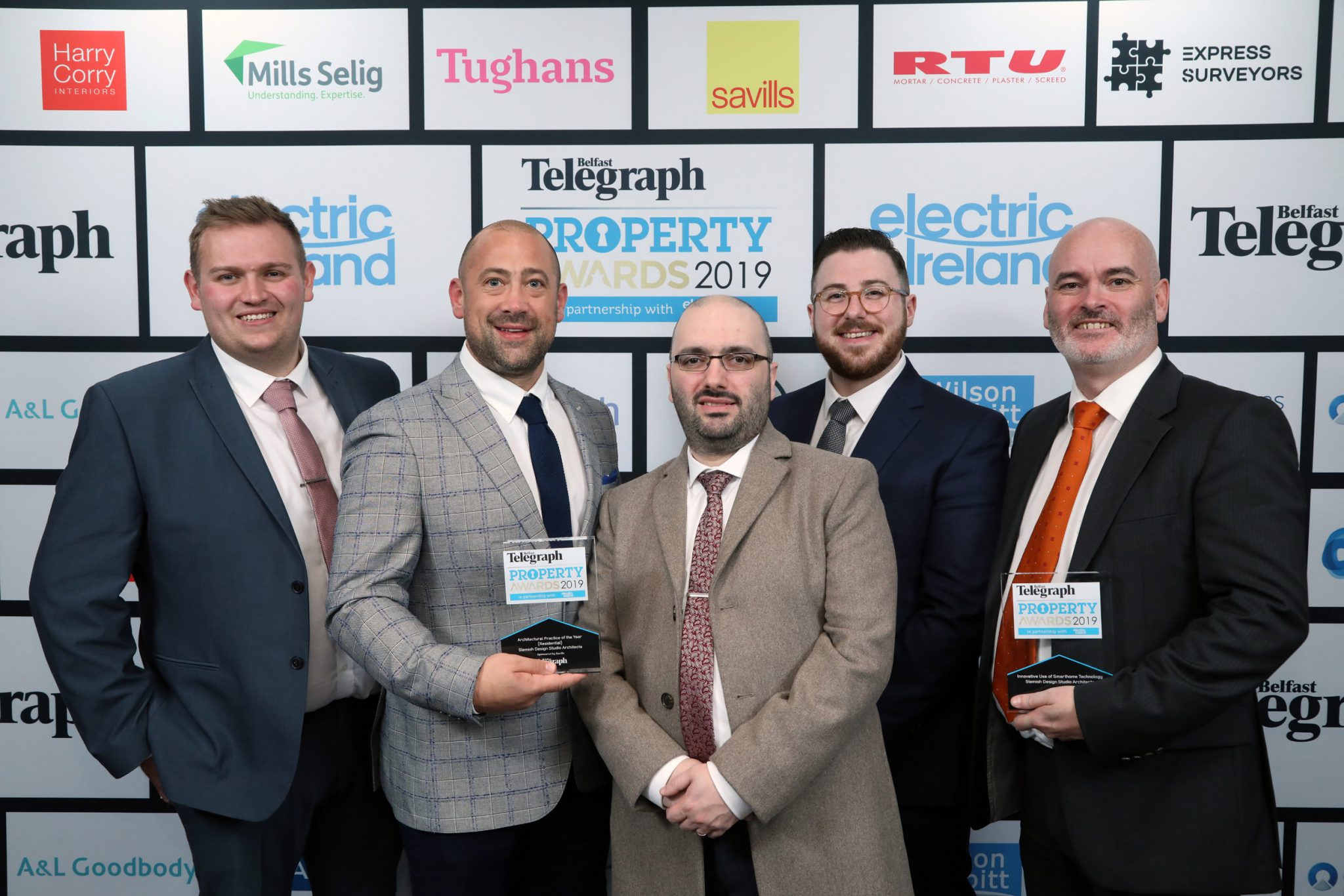 The practice boasts a passion for innovative and quality design through its personal and attentive customer service. Partner Steven Bell states "We pride ourselves in our professional approach with each client, by combining effective communication mixed with our easygoing nature. These methods strengthen the individual customer experience by making their journey as easy and as stress-free as possible".
Partner Joe Magill says "We are delighted to have won these prestigious awards and would like to take the opportunity to thank everyone who has supported us over the years and are truly grateful to showcase our talent".
Find out more about award winning Broughshane business Slemish Design Studio on their website here. You can get in touch with them by phoning 028 2586 2461 or by calling into their office in the  Raceview Mill complex. Keep up to date with their news on their Facebook page here.