Are you up for a bit of fun, dancing and chat, an opportunity to meet other people in a safe and friendly environment, then why not come along to the Tuesday Tea Dances at Ballymena Methodist Church Hall? Held on the second Tuesday of the month from 2pm to 4pm, they provide the perfect place for you to make new friends.
The dates for the next few months are –
11th February 2020
10th March
14th April
12th May
9th June
As always the music is supplied by Housty. There's a small entrance fee of £3 which includes tea and biscuits, and of course, two hours of dancing, chat and fun.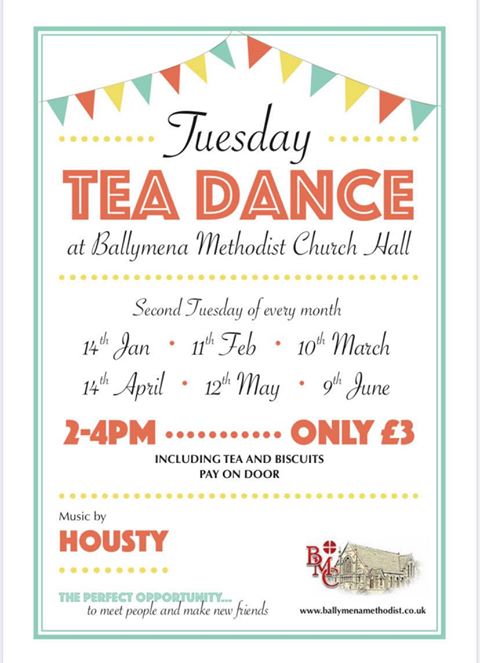 The organisers say, "Our  Tuesday Tea Dances, as an activity, is a proven way to help address feelings of loneliness, anxiety and isolation. These feelings are becoming much more common especially amongst our older citizens, and arise through a variety of reasons, ie. illness, retirement, family living away or bereavement. We all have a responsibility to help address these issues and we can start by encouraging  individuals to take up new activities and enjoy life." 
"There is a very warm welcome for everyone. Everyone who has already been say they enjoy the pleasant and friendly atmosphere. You don't have to know your slow foxtrot from your waltz to come and enjoy our Tea Dances!"
Ballymena Methodist Church Hall is situated at 38-40 Ballymoney Road, Ballymena. Click here for map and directions if needed.