Signage Ballymena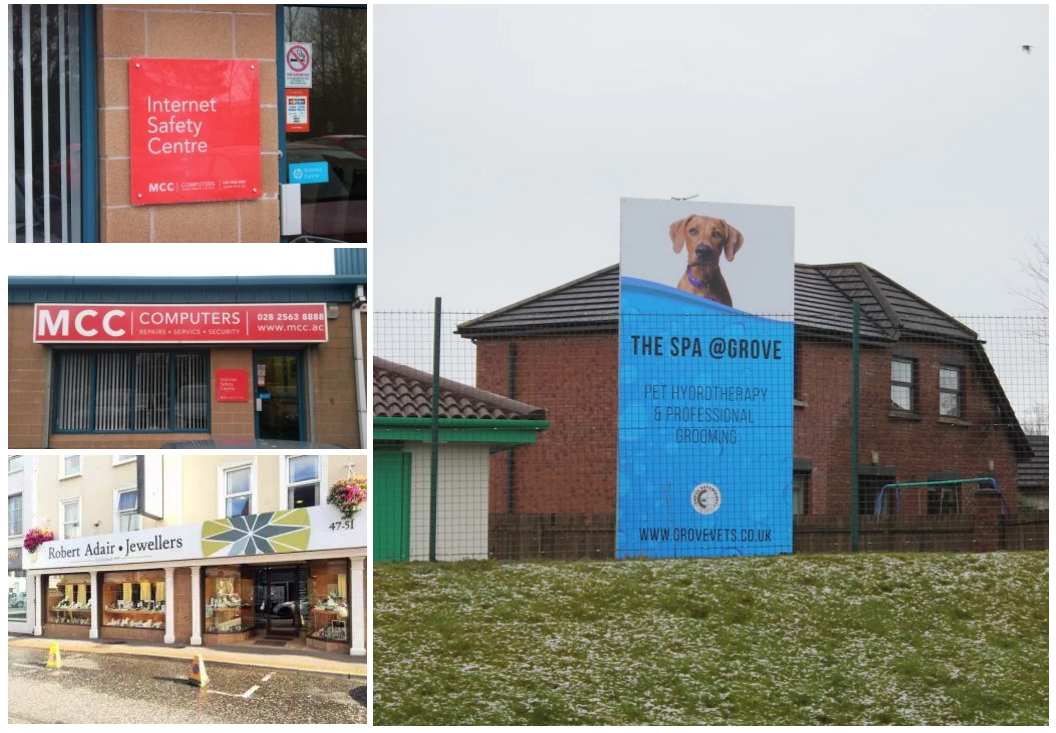 New Signage has been popping up in Ballymena as lots of established local businesses have been opening or rebranding their premises. Here are some great examples of signage in Ballymena.
The Spa @ Grove
Last week we wrote an article about the new Spa at Grove Vets on the Grove Road. The Spa offers Pet Hydrotherapy and Professional Dog Grooming alongside its usual check ups and nurses clinics. They say:
We now have a heated pool with underwater swim jets. It is filtered and maintained to human standards meaning that you can trust that your pet in in the best hands. Hydrotherapy promotes muscle development, improves circulation, cardiovascular fitness and mental acuity. Time spent in the Spa can relieve pain. swelling and stiffness, improves mobility and can help your pet with weight loss. But your don't need to have ailment or problem – you can book them in just for fun as a treat and a great exercise session.
We also have a fully qualified groomer on site to cater for all of your pets grooming needs. From a quick trim and tidy up to a full scale pamper session you pet will be in great, professional hands. Our groomer is City and Guilds certified and is a dedicated caring member of our team. Dog grooming is an important part of caring for you dog.
Their signage is bright, clear and hard to miss on the road side. We think that it looks fantastic. Click here to visit the Grove Vets website or read more about this local business here.
Robert Adair Jewellers
This Jewellers has been in Mill Street since 1957 and we absolutely love their new signage which is classic yet fresh and eye-catching. If you would to take a look at how the shopfront looked before then click here to view the history of Robert Adair Jewellers on their new website which was launched last year.
Whether it's a gift or a special treat for yourself choose form bracelets, earrings, necklaces & rings in your choice of precious metal, plain or set with gemstones and diamonds for Robert Adair Jewellers. With 60 years of selling jewellery they know what customers like and therefore make a big effort to offer original and unique pieces with intrinsic value which will become heirlooms of tomorrow.
MCC Computers
MCC Computers at Ballymena Business Centre on Fenaghy Road also have revamped their shop front. Last year local business Ballyprint installed their new signage which is bold and clear.
The new signage reflects the breadth of services offered at MCC Computers and also features their web address www.mcc.ac.
MCC Computers offer:
Repairs
Server Networks
Social Website Creation
Design & Print
Hosting, Mail & Anti Spam
Brand Management & Marketing
Digital Media
Data Management
Training Room Hire
MCC Computers have been instrumental in all the signage which has been designed for all of the businesses shown above.
If you would like to know more about the design services offered through local Ballymena business MCC Computers or have questions about new signage for your business get in touch with MCC Computers on 028 2563 8888.