The People's Park will host a Buggy Workout in Ballymena. Mothers and babies can enjoy a day socialising with others and enjoying the outdoors together every Friday fro five weeks. The Buggy Workouts commence this Friday 20th May at 10am. Mothers should meet at the People's Park Pavilion and be dressed for sunshine and rain (just in case)! Please read the full details below.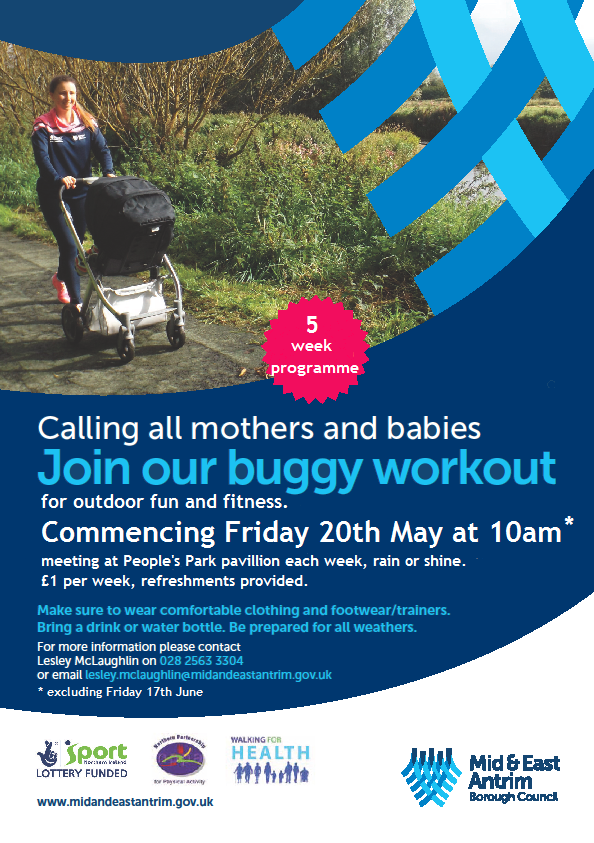 At the start of the week Ballymena Today highlighted that this is Mental Health Awareness week. Their focus this year is to make a relationship resolution – if you are a new mum the Buggy workout would be a great place for you to forge some new relationships and get some exercise. Read more about Mental Health Awareness week here.
Exercise is really good for your physical and mental wellbeing. The Mental Health Awareness association have a great "How to " guide which can tell you much more about the benefits of exercise.
What impact does physical activity have on wellbeing?
Physical activity has a huge potential to enhance our wellbeing. Even a short burst of 10 minutes' brisk walking increases our mental alertness, energy and positive mood.
Participation in regular physical activity can increase our self-esteem and can reduce stress and anxiety. It also plays a role in preventing the development of mental health problems and in improving the quality of life of people experiencing mental health problems.
Click here to read the full article and please share this with any new mums who would be free to join the Buggy Workout in Ballymena this Friday.