All of you who love musicals will want to go to see Oliver! at the Braid Arts Centre Ballymena. Voiceworks presents Oliver! from Wednesday 3rd to Saturday 6th August 2016.
Wed 3rd – An open dress rehearsal from 7.30pm
Thurs 4th at 7.30pm
Fri 5th at 7.30pm
Sat 6th – Matinee at 2.30pm and 7.30pm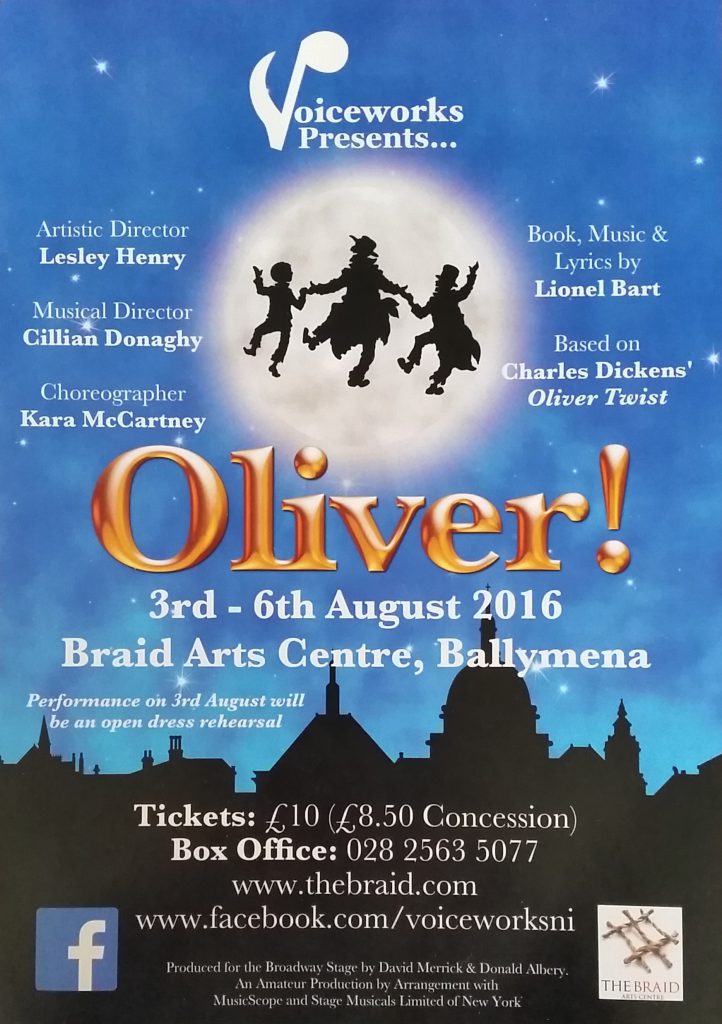 Oliver! At The Braid Arts Centre Ballymena
Here's a snippet of what to expect at the Oliver! performances, "This year Voiceworks proudly presents Lionel Bart's Musical Oliver! Bart's musical adaptation of Charles Dickens's classic novel Oliver Twist tells the story of young orphan Oliver as he travels through the dark underbelly of London society. The musical score features many famous numbers including Consider Yourself, Food Glorious Food, As Long As He Needs Me and It's A Fine Life."
We're all familiar with the story line and of course Oliver! has been very popular for many years in both the West End and Broadway so it's great to have the opportunity to see it here in Ballymena.
Artistic director for Oliver! at The Braid Arts Centre Ballymena is Lesley Henry, musical director is Gillian Donaghy and choreographer is Kara McCartney.
Oliver! at The Braid Arts Centre Ballymena is a show definitely not to be missed! You'll be familiar with many of the songs and is perfect family entertainment. If you can't make the evening shows there's a Saturday afternoon matinee which might suit better.
For more details and to check ticket prices check out the Braid website here. You can also buy your tickets online here. You can keep up-to-date with Voiceworks on Facebook here.