Here is the first of my blog posts to follow up after my article called Local Books for Ballymena Readers. The first book I want to focus on is Paperboy by Tony Macaulay. Macauley is from West Belfast and has written three instalments of his life – beginning with Paperboy chronicling his first job and hilariously sharing his childhood moments. Paperboy is followed by Breadboy and then All Growed Up. 



Drawing on his experiences growing up in Northern Ireland, Tony has channeled his memories and observations into literature as another way of building conversations between the region's disparate communities. His debut, the critically acclaimed memoir 'Paperboy' (first published in Ireland in 2010) is a story that balances Northern Ireland's turbulent social history with entertaining insights, wit and humour. It tells the warm, funny and nostalgic story of his years in Belfast in the 1970s working as a paperboy delivering the Belfast Telegraph (Northern Ireland's leading daily newspaper) around his neighborhood. His commitment to peace and reconciliation was formed a very early stage of his life and is consistently reflected through his writing. (Source)
All are fantastic reads and if you are looking for a charming, funny book then this is perfect. It is a decent length and would fit easily into your suitcase if you are going on holidays. All are available from Waterstones in Ballymena.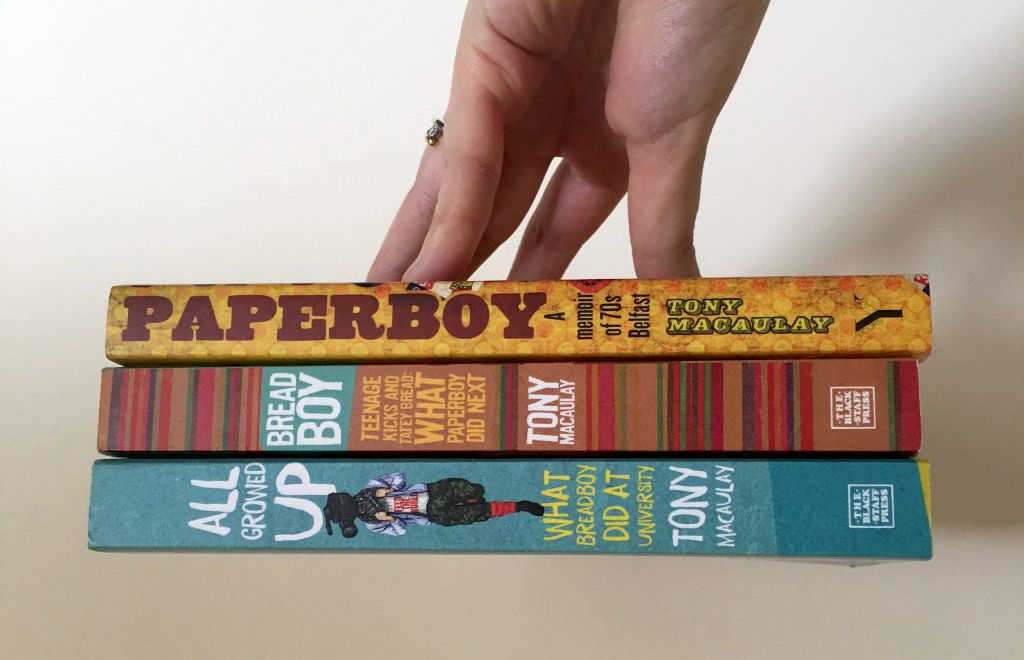 If Tony has inspired you to write about your childhood then the event below might appeal to you.
Creative Writing Workshop
What to write about? How to start? How to continue? Is it worth it? Am I any good?

Hosted by bestselling local author Tony Macaulay, this tailored course is based on freeform writing. This one-day course is for participants who would like to learn a relaxed approach to creative writing or those interested in using writing in a therapeutic way or setting. Tony will help you develop in fresh ways and to find your own unique voice as a writer.

The Book Reserve – 407 Lisburn Road, Belfast

12:00pm: Author reading and Q&A – FREE
2:00pm: Workshop – ticketed event

We have limited places – book your workshop ticket here.
"You don't have to be a 'good writer' to enjoy this workshop. You may not have written creatively since that poem your teacher pinned up on the wall in your classroom in P5. You will get a chance to try something new, get feedback and have fun playing with writing with other people."

The day begins at 12noon with a Public Reading + Q&A with Tony—from his newest book All Growed Up—on growing up in Belfast during the Troubles. The reading is open, and free.
So we recommend that you pick up Paperboy and if it inspires you head out to meet the man himself!