Penguin Banners in Ballymena offer Custom Wallpaper Printing. Custom Wallpaper Printing is a great way to decorate your business premises or organisation with your advertising message. It is a great way to stamp your identity on your business and communicate with your customers. Here are some examples of Custom Digital Wallpaper from Penguin Banners in Ballymena.



Custom Wallpaper Printing – Ballymena
Custom Wallpaper Printing provides a unique wall covering that is easy to put up. A digital wall covering from Penguin Banners will transform any space. It is the perfect way to brighten up a space. In addition it is a clever way to use your wall to advertise your business or organisation.
The Penguin Banners range of custom digitally printed wallpaper is ideal for a range of locations. Business rooms, reception areas, exhibitions lobbies, bars, clubs, hotels, restaurants – anywhere a unique image is needed.
Custom Wallpaper Printing from Penguin Banners provides printed wallpaper with the following features.
Easy to apply and remove
Sticks to any smooth non-porous surface
You dictate the size requirements meaning it is suitable to fill any wall with any design.
Is supplied in pattern matched drops ready to be fitted.
Our custom wallpaper is printed using super high quality
High definition printers with scratch and fade resistant inks.
You can select a Custom Printed Wallpaper which is the traditional pastable style. On the other hand you can opt for a self-adhesive wallpaper. It will be ready to fit onsite without the need for any messy paste. Below is a wall covering printed for Perfect Day Print. The client picked a photograph which they loved and we at Penguin Design were able to place their logo on it. Printed in four strips, the wall covering was easily attached to the plain wall. It is a perfect fit.
We think that the result is beautiful. The colours and clarity of the image are perfect. The room has been completely transformed. (Source)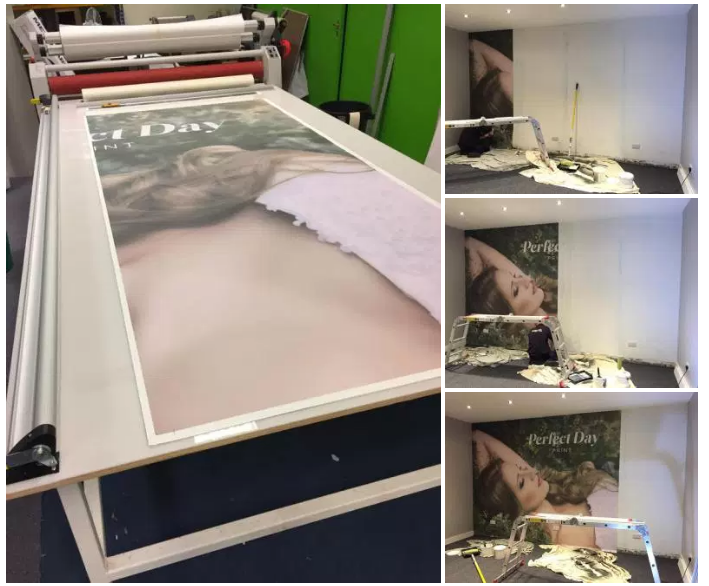 Penguin Banners are located in Ballymena and we work in Northern Ireland. Please get in touch on 028 7035 4646 to find out more about Custom Wallpaper Printing.