Do you support someone with dementia? If the answer is yes, then the Alzheimer's Society is running a very helpful training course for you.

The Alzheimer's Society in Antrim and Ballymena area are running a six week course entitled 'Training for Informal Caregivers'. It will be held in Ballymena North Business and Recreation Centre. Starting on Tuesday 17th January 2017 it will begin each week at 2:00pm.
The programme is designed to improve knowledge, skills and understanding of those who support and care for someone living with dementia.
Do you provide unpaid care and support for a family member, neighbour or friend with dementia?
Would you like to meet with other informal carers?
Would you benefit more from finding out more about dementia and coping mechanisms. Also find out more about legal & financial issues and basic communication skills?
Would you like to be aware of all the dementia services available in your area?
If you've answered yes to any or all of the above, then this 6 week course is for you and it's FREE !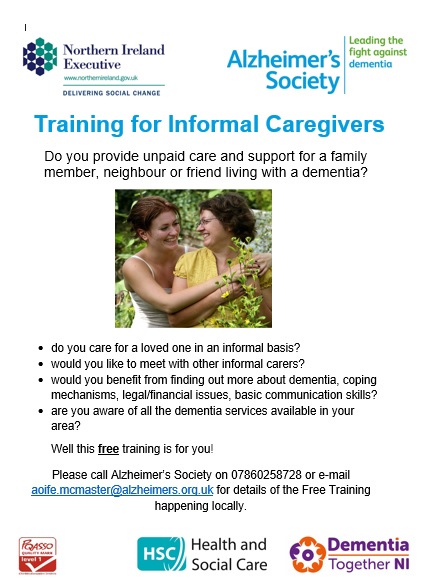 Antrim and Ballymena Alzheimer's Society are running a 6 week course – Training For Informal Carers. It's being held in Ballymena North Business and Recreation Centre starting on Tuesday 17th January at 2:00pm.
If you have any questions about the programme, please get in touch on the details below. If you or someone you know would like to attend, please contact 07860 258728. Alternatively you can email aoife.mcmaster(at)alzheimers.org.uk
To find out more about the Alzheimer's Society click here to go to their website. If you use Facebook you can keep up to date with local news on the North and East NI page here.
Help us spread the word for the Alzheimer's Society by sharing this article on your social media #sharetheconversation