In Northern Ireland this weekend many buildings are open and running events for heritage weekend.
It is the 20th year that European Heritage Open Days has been running. This year promises to be a great one, with nearly 400 properties opening their doors to visitors for free this weekend on Saturday 9 to Sunday 10 September 2017.
In the ballymena Area we are delighted to report that there are two opportunities to explore.
1/ Arthur Cottage – In Cullybackey on Saturday from 11am to 4pm folks can enjoy a traditional baking demonstration, and a tour of Cottage and Interpretive Centre.
2/ The Braid – On Saturday from 10am to 4pm enjoy a guided, behind the scenes, tour of Ballymena Town Hall and Mid-Antrim Museum. The tour includes a visit to the Mayor's Parlour, Council Chamber, Collection Store and Conservation Workshop. This tour includes areas not normally open to the public. (Tour from 11am to 12noon).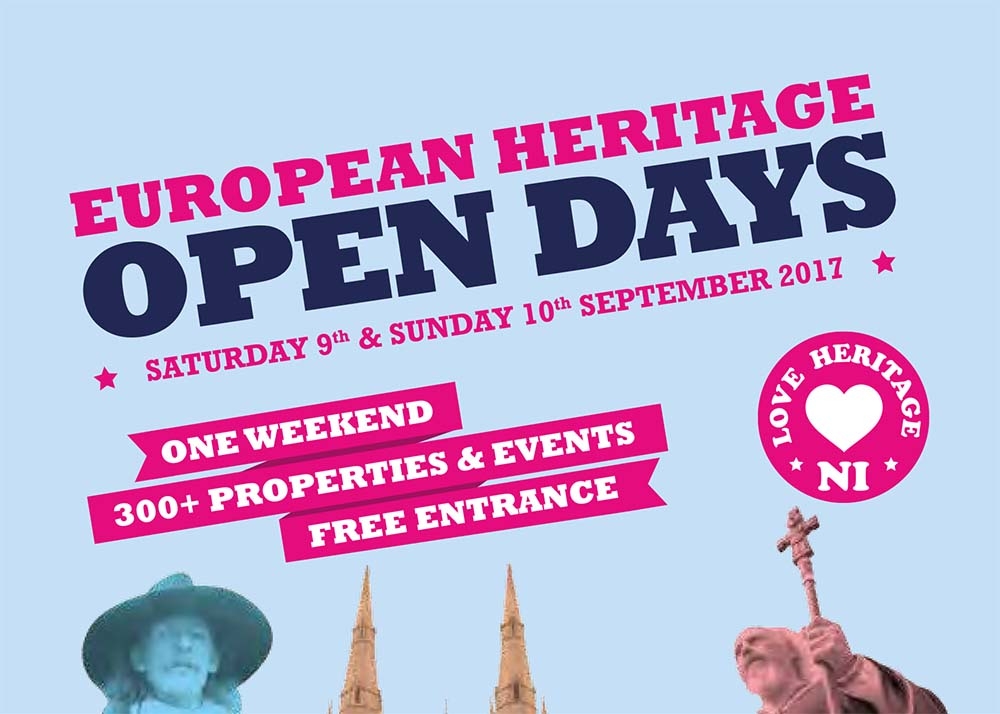 European Heritage Open Day – Ballymena
Other highlights include:
Andrew Jackson Cottage and US Rangers Museum, Carrickfergus
An 18th century thatched stone cottage restored as a tribute to seventh President of the USA Andrew Jackson, whose parents lived nearby.
The Redoubt in Enniskillen
A hidden historic gem, this stoned-walled redoubt sits on Windmill Hill. It was built in 1796, with walls 142 foot long, 20 feet high, 15 feet thick, and a moat 10 foot deep as a fortification to the town's West Bridge and to Enniskillen Castle.
Armagh Observatory and Planetarium
Enjoy a guided tour of the Armagh Observatory and Planetarium's grounds and gardens – the Astropark. Enjoy a scale model of the solar system, the Hill of Infinity, the Around North exhibit, and the natural environment of our woodland walk.
Newtownstewart Guided Walk
The village, located on the River Mourne, was once a centre for the linen industry, now a focal point for agricultural hinterland. The walk and guided tour by architect Manus Deery will feature buildings of architectural and historical interest.
To find out more information about European Heritage Open Day in Ballymena and throughout Northern Ireland please click here.