The new Midtown Indoor Variety Fair in the Adair Arms Hotel takes place on the last Saturday of every month. The next one will be on Saturday 28th April 2018 from 10am to 3pm. This new venture brings together over 30 small business owners from the food and craft sectors to a great town centre venue.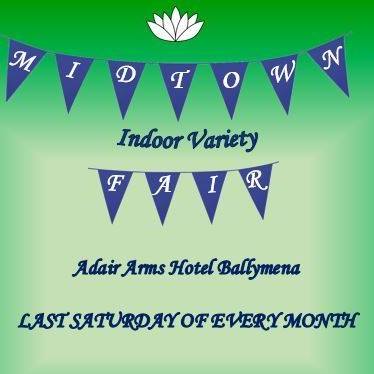 We caught up with organiser Tina Green to tell us more.
"I am a small business owner and wanted to create a space where, together with others in the same position, could have a regular event taking place in Ballymena town centre. I go to regular markets, fairs, etc and these are a great way to meet the public and get new customers. So after a few months of planning I held the first Midtown Indoor Variety Fair in February past. The Adair Arms Hotel is a great venue for it. It's close to the main shopping area and we have a good sized, warm and comfortable space in the hotel to hold the event."
So what will be available to everyone coming along to the next one at the end of April?
"We will have a great mix of traders and products. I do my best to have little or no duplication of products so there's as much variety as possible for the customers. You will be able to get some sweet treats from the likes of Creme de la Patisserie and Flossy Treats. Also confirmed are various crafts and franchaise traders selling all kinds of product including jewellery to handbags, candles to soap, wooden goods to health products and so much more!"
Midtown Indoor Variety Fair in the Adair Arms Hotel – a new monthly event in Ballymena – the last Saturday of every month.
Organiser Tina Green said, "I would love to see this one become the busiest Midtown Fair so far, so please come along if you can. It's good to shop local and support these small businesses"
You can find the Midtown Indoor Variety Fair Facebook page here.