Here's a great way to have some fun and get fitter by signing up to these Cardio Tennis workouts in Ballymena.
Cardio Tennis will begin on Wednesday 10th October 2018 from 12pm – 1pm at The Peoples Park.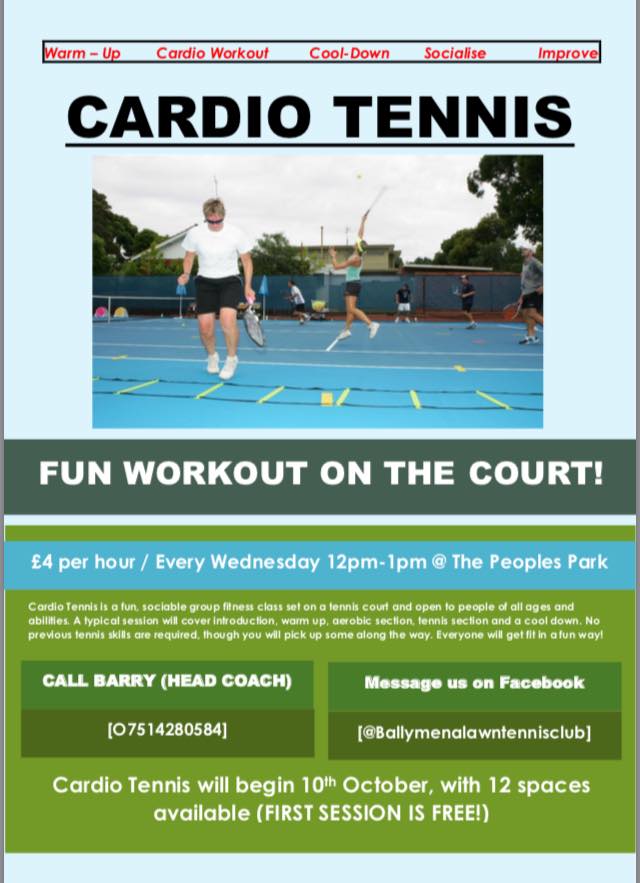 So if you are free on Wednesday early afternoons why not give it a go! Barry Clarke, Head Coach of Ballymena Lawn Tennis Club (BLTC) and organiser of the Cardio Tennis programme said,
"It's a fun, sociable way of keeping fit while learning some tennis skills."
Contact Barry to find out more or to book your place on 07514 280584. There are 12 spaces available on this programme and the cost is £4 per hour. (The first session is FREE)
What is involved in these Cardio Tennis workouts?
Cardio Tennis is a fun and sociable group fitness class set on  a tennis court. It is open to people of all ages and abilities. A typical session will begin with a warm-up followed by an aerobic section, a tennis section and finally a cool-down. No previous tennis skills are required but you will pick some up along the way. A fun workout for everyone on the court! Click here to watch a short video clip which will explain more.
Cardio Tennis workouts at the Peoples Park, Ballymena, starting Wednesday 10th October.
Interested or know someone who would be? Get in touch with Barry on the number above. You can also send a message on the BLTC Facebook page here.