Community Art Classes in the Ballymena area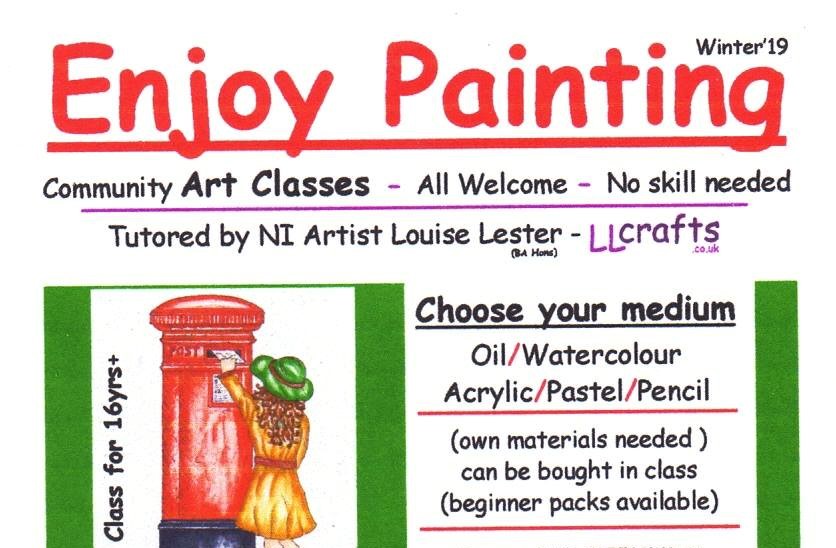 Skilled artist, Louise Lester (BA Hons) from Galgorm, will be facilitating several community art classes in the Ballymena area at the start of 2019. Do you know someone who would like to learn to paint? Maybe the perfect Christmas gift for someone you know, with 10 week classes starting at only £55?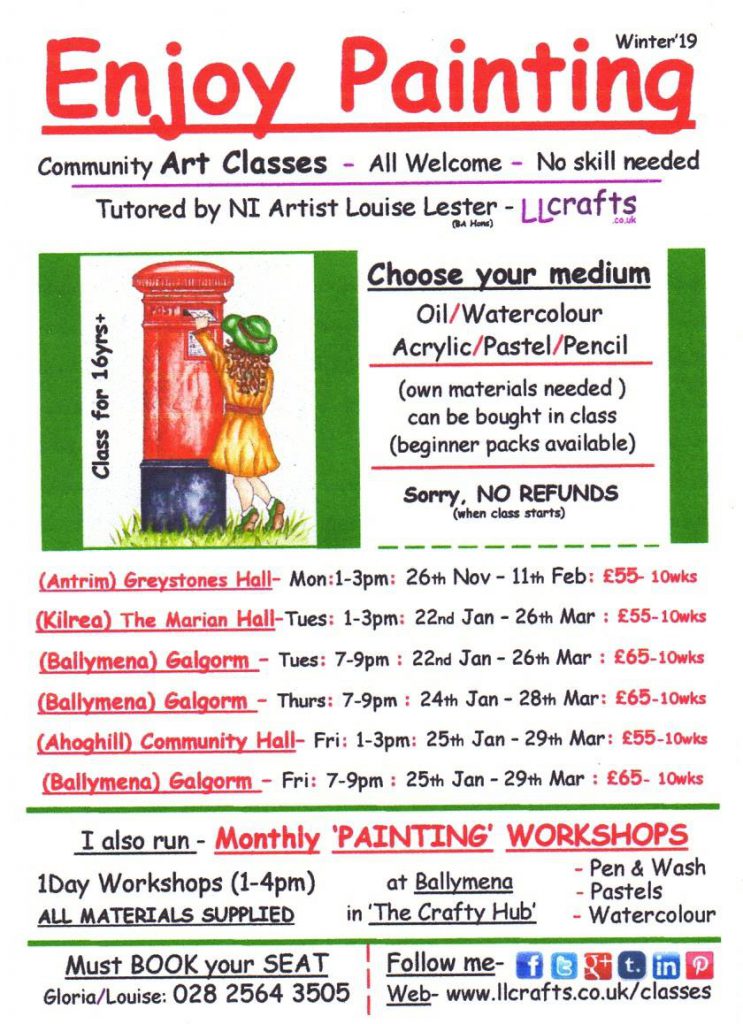 Here are the details of Louise's Winter'19 art classes beginning in January 2019 –
Galgorm, Ballymena – Tuesday evenings from 7-9pm – weekly from 22nd January to 26th March 2019 – Cost is £65 for 10 weeks
Also in Galgorm, Ballymena – Thursday evenings 7-9pm – weekly from 24th January to 28th March 2019 – Cost is £65 for 10 weeks
Ahoghill Community Hall – Friday afternoons 1-3pm – weekly from 25th January to 29th March 2019 – Cost is £55 for 10 weeks
Galgorm, Ballymena – Friday evenings 7-9pm – weekly from 25th January to 29th March 2019 – Cost is £65 for 10 weeks
Also if you live in the Kilrea area there is a 10 week course starting on 22nd January 2019 from 1-3pm in The Marian Hall. This course finishes on 26th March.
Louise has been facilitating these community art classes for several years now and they are very popular. You will need to book your seat either for yourself or if you are buying the course as a gift for someone else. To check on availability and/or book, phone Louise or Gloria on 028 2564 3505.
We spoke to Louise who said,
"These classes are for anyone with an interest in learning to paint but you definitely don't need any previous  experience to sign up. Hopefully by the end of the 10 weeks you will have acquired the skill and know-how you will need to develop your new interest. The classes are very relaxed and are suitable for any age group. You can begin in any art medium you choose – oil, watercolour, acrylic, pastel or pencil. 
So if creating your own art is something you would love to do but don't know where to start, then these classes are perfect. I'm also happy to take students who have maybe done a little painting but want to improve their skills. So go on, give it a try and who knows you might just start on a painting journey which will bring you much pleasure and satisfaction."
As well as running her art classes, Louise creates beautiful, hand-painted commissioned artwork and crafts. As she puts it, "I paint anything onto anything!" Some of these include milk churns, slate plaques, baby chairs and so much more. Find out more on her website here or on Facebook here.