The Belfast School Of Performing Arts (BSPA) is bringing Broadway and Hollywood to Ballymena this August with a show stopping week long course of musical theatre workshops at Ballymena Academy.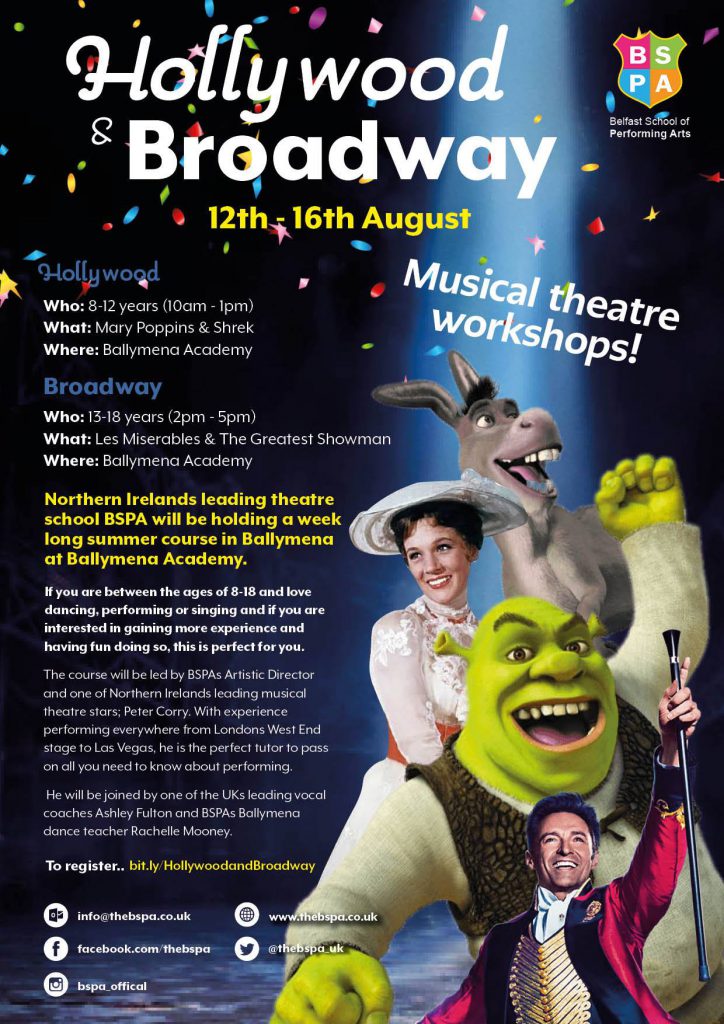 One of NI's leading musical theatre stars, Peter Corry, will lead the workshops. Peter has a vast experience of performing on stages across the world and is the ideal tutor to pass on all you need to know about performing. He will be joined by one of the UK's leading vocal coaches, Ashley Fulton and the BSPA's Ballymena dance teacher Rachelle Mooney.
The workshops will run from 12th – 16th August 2019
'Hollywood' musical theatre workshop
Who: for 8-12 years and runs from 10am – 1pm
What: Mary Poppins and Shrek
Where: Ballymena Academy
'Broadway' musical theatre workshop
Who: 13-18years and runs from 2pm – 5pm
What: Les Miserables and The Greatest Showman
Where: Ballymena Academy
Both workshops will end with an informal performance for parents on the Friday. Cost for the workshops are £110 per person (£100 for BSPA pupils) To find out more and to register, click here to go to the relevant page on the BSPA website. You can also follow them on Facebook here.
Musical Theatre Workshops at Ballymena Academy
run by the Belfast School of Performing Arts
So if you are aged between 8 and 18 and love to dance, sing or perform then this is a super opportunity to gain more experience while having fun. Who knows, it may be the beginning of many achievements as has been the case for Victoria McClements, a pupil at BSPA Ballymena. She was awarded 'Most Outstanding Female Performance' at last week's Musical Theatre International (MTI Europe), Junior Theatre Festival 2019 held in Birmingham.
It doesn't have to end with the completion of the workshops – if you want to continue to develop your musical theatre skills, the BSPA run a weekly training school in Ballymena every Saturday from 10am to 1pm. Find out more here.