MCC Insurance Brokers, based in Pennybridge Industrial Estate in Ballymena, have recently launched their new website – a fresh and uncluttered site – one which the customer will find easy to use and includes all the information they will need.
MCC Insurance Brokers are definitely in the 'well established in Ballymena' category having offered insurance services to their customers for over 50 years! They also have an office in Ballymoney and provide a huge range of insurance services to customers all over Northern Ireland.
As should be the case for any forward-thinking business, MCC Insurance Brokers are aiming to continually improve their services. Recently part of that business plan was to update their website. They wanted a fresh, contemporary new look, a site that would be easy to navigate and highlight the professional standards of the business.
Having worked together with MCC Computers in Galgorm for all their design, web and print work over many years, the process began to design and build the new website they desired.
Check out the new MCC Insurance Brokers website here.
Andrew from MCC Insurance Brokers, speaking about the new site, said,
"We felt it was time to reintroduce ourselves online – we have a lot to offer, both in terms of products and personnel.
We have been on the receiving end of a lot of good advice and help from MCC Computers over the years. The whole process from start to finish was face to face, step by step, and we never moved on until we were all happy. We think the website looks great  – it's bright, it's clean and it gets the message across that as your local broker we are 'here to help'. Thankfully our customers are saying the same too!"
MCC Insurance Brokers offer insurance products right across the range – private motor, home, commercial, farm, motor trade, leisure and more.
Two other products we want to highlight are –
Travel insurance – This is the time of year when many will be planning summer holidays, so don't forget to buy your travel insurance. Get in touch with MCC who will be glad to help or find out more on their website here.
Young drivers insurance – If you are a 17-25 year old and a full or provisional license holder, you can take advantage of their Young Drivers policy by fitting a telematics device in your car. The benefits are huge – heavily reduced premiums, earn your own no claims bonus and more. Find out more about the Young Drivers scheme on the new website here.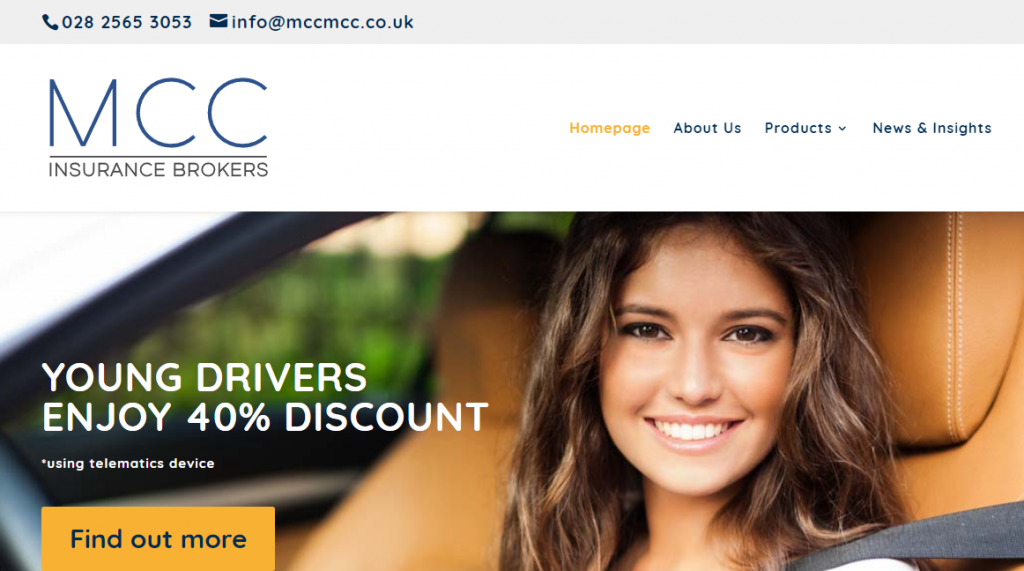 Why not get in touch with MCC Insurance Brokers for your insurance requirements?
So next time you're needing insurance for your car, your home, your business, your leisure equipment, in fact anything that needs insured, why not call MCC Insurance Brokers on 028 2565 3053 or use the very handy 'Request a Callback' feature on their website.