Ballymena based Ad Hoc Theatre Group are delighted to present 'A Light Portmanteau' – an evening of one act plays – at The Braid Arts Centre. It's on Friday 15th November 2019 and the entertainment starts at 8pm.
Billed as an evening of one act plays filled with screams and laughter, tickets are available now (priced £7 / £5 concessions) You can get yours from The Braid Box Office – phone 028 2563 5077. You can also buy tickets online from The Braid Arts Centre website here.
Tom Sampson, writer of 'The Trail of the Vampire Bride' told us, "The evening of one act shorts will be headlined by this satirical comedy that I penned for the talented actors of this Ballymena drama group."
Ad Hoc Theatre Group presents – 'A Light Portmanteau'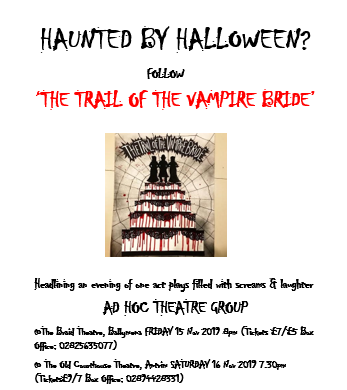 The Portmanteau holds four short plays – Causeway Capers and The Trail of The Vampire Bride (by Tom Sampson), Josie's Fourth Class (by Bob Margrain) and Turfing Out (by Tom & Bob)
In the first of these, Causeway Capers, old drinking buddies bemoan the influx of Causeway visitors into their local drinking hole and make mischief by spinning an improbable yarn to two gullible American tourists.
In the Fourth Class, Josie, having delivered pilates to geriatric and pre-natal classes, and Yoga for Beginners takes on her biggest challenge yet when she visits the inmates of a prison.
In Turfing Out some unexpected relationships from the past are discovered once the code in a love letter is solved.
The Trail of the Vampire Bride – The second half of the evening features Count Krapula as he attempts 'trigonometry' by taking Vampyra as his third wife. The first two, Haemaglobia and Plasma, are less than happy to be given the roles of shabby bridesmaids. DCI Sweeney, aided by DC Todd, and Dr Van Hyre hunt him down. High fashion and forensic science add to the fun of this light-hearted reworking of a blood sucking classic. The programme contains adult themes and adult humour.
A second performance of A Light Portmanteau will take place in The Old Courthouse Theatre, Antrim
If you can't make it to the Ballymena performance, A Light Portmanteau will also be performed the following evening (Saturday 16th November) in The Old Courthouse Theatre, Antrim at 7:30pm. Tickets are £9 / £7 concessions. Wheelchair accessible seats are not available to book online, please contact Box Office on 028 9442 8331.
Find out more about the Ad Hoc Theatre Group on their Facebook page here.