Ballymena Rotary Club are back in The Tower Centre this year again where you can 'Tie a Ribbon' onto one of their Christmas Trees of Memories. Look out for the trees adorned in yellow ribbons as you come into the shopping centre from the Wellington Street entrance.
The initiative is organised by the Rotary Club and donations from it will go to Good Morning Ballymena, Macmillan Cancer Support and local charities supported by the Rotary Club.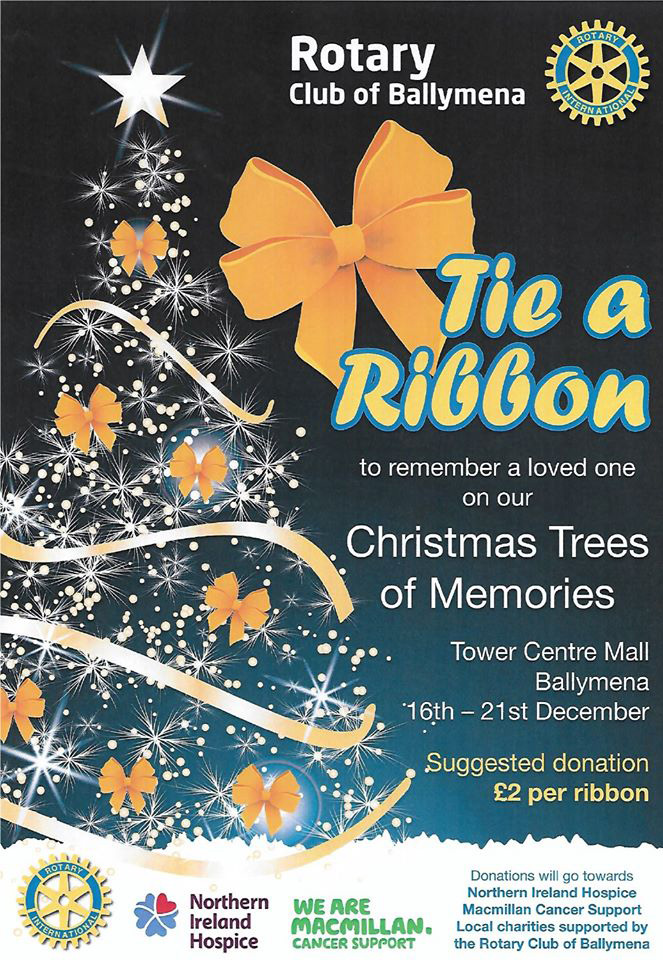 The Ballymena public are asked to join them in this project by stopping at their table in the Centre and writing a short message on one of the yellow ribbons which will then be hung on one of the trees. The Rotary Club say on their Facebook page, "If you'd like to write a message to a loved one who has passed or maybe can't be with you this Christmas then please come along and support this worthwhile event." Of course it can also be a message dedicated to anyone who is in your thoughts this Christmas time. The suggested donation of £2 per ribbon will go to support the charities listed above.
Ballymena Rotary Club –
'Tie a Ribbon' on the Christmas Trees of Memories
Next time you're in the Tower Centre, why not write your message on a ribbon and help support this initiative. There will be volunteers from the various organisations at the trees until 21st December 2019. We're sure by then the trees will be full of yellow ribbons.
You can find out more about Ballymena Rotary Club on their website here.