It's almost time for Radio Cracker Ballymena to go on air for another year. The programme for 2014 starts on Thursday 27th November at 7.30am with breakfast show. You can see the full schedule here and please share this, but as always Radio Cracker will be on air each weekday from 7.30am – 11.30pm & weekends from 8.00am – 11.30pm. Some familiar Radio Cracker faces – that should probably be voices – will return to present again this year and there's also going to be a few new voices behind the mic for 2014. The popular 'schools spot' continues this year with many of our local schools and colleges singing live in Montgomerys restaurant.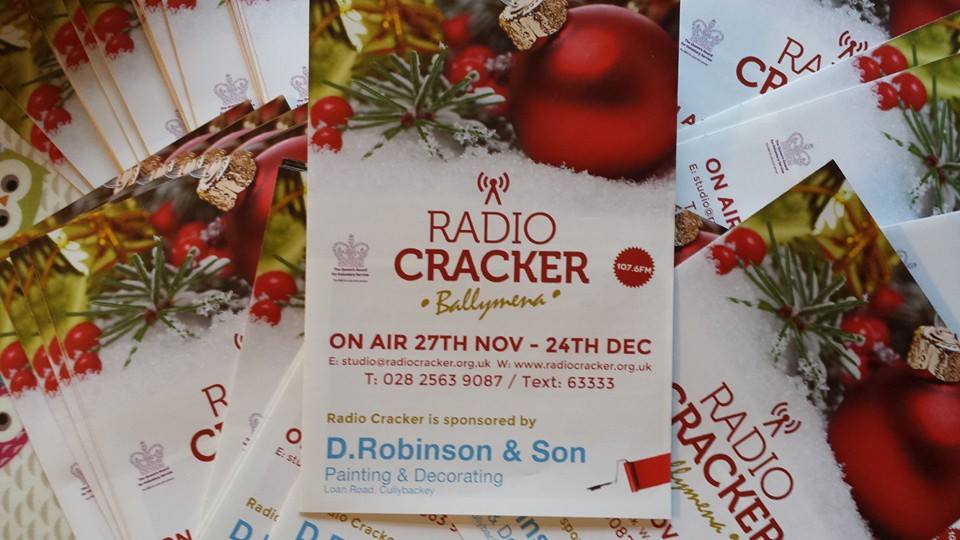 Radio Cracker would like to thank the many businesses who sponsor, advertise and help in other ways with the station and to the people of Ballymena and further afield who support Radio Cracker year after year. You can find out which charities they intend to support this year by going to their 2014 projects here. They can only do this with your help.
The frequency stays the same this year which is 107.6FM but you can also tune in anywhere in the world when the station goes on air using the 'listen now' link on their website. Click here to take you to their website or you can also keep in touch using Radio Cracker's social media – Facebook page here or Twitter feed here. The only contact which has changed this year is the text number. It's now much shorter and easier to remember – Text: 63333 
Radio Cracker has been broadcasting in Ballymena for well over 20 years now and has become a big part of the run up to Christmas in the town. They would love you to listen in and support them again this year so they can pass on your generosity to people in desperate need in many parts of the world.