When you're out and about in Ballymena these days you're quite likely to see groups of runners on the footpaths and various trails around the town. There's a good chance they are members of Ballymena Runners who have their base at the Seven Towers Leisure Centre. Running has become incredibly popular the last few years with people taking it up either to get fit, because it helps with a slimming plan or just because they enjoy the social side of it. In fact it is so popular that the current Cosy Sofa to 5km – a nine week training course for beginners which began in early January, run by Ballymena Runners – was fully subscribed in no time at all. Despite the snow, hail, ice & wind which has been the case this year, dozens of runners have been braving the conditions every Monday night to reach the goal of being able to run 5km.
Ballymena Runners history
The running club was formed back in 1991 when a group of runners from the town got together and formed Ballymena Runners AC. Within a couple of years the membership had grown and they ran their first club event, 'The Ballymena 5'. Soon they also staged 'The Race Over The Glens' & 'The Glenariff Mountain Race'. Over the years the club has grown from strength to strength attracting a huge membership of runners of all abilities and both male and female. Many awards have been won over the years by the club and it's members. The club now competes regularly in all sorts of running events and races including road, trail, cross country and mountain running.
Ballymena Runners today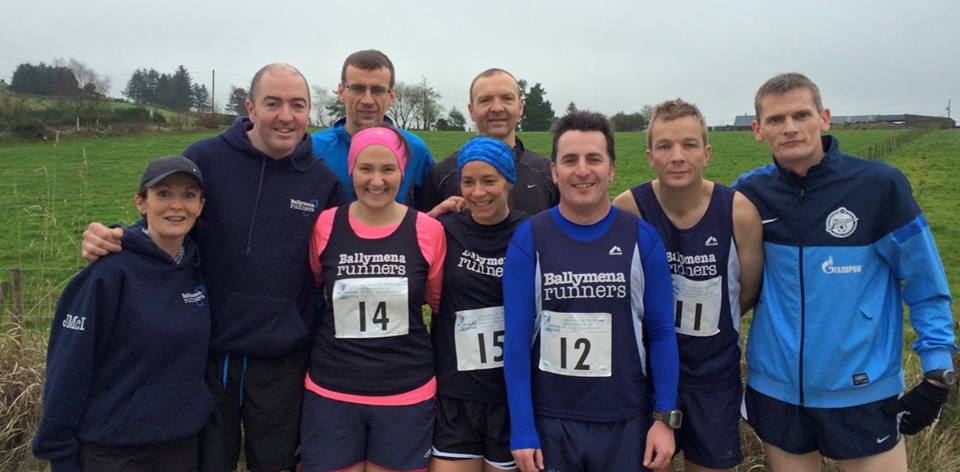 The club is thriving with a membership of around  400 and had the great honour of being awarded Club Of The Year in 2014. A great achievement and recognition of the amount of effort Ballymena Runners club puts into helping and encouraging the local Ballymena community to get involved in sport and fitness. Ballymena Runners train on Monday and Wednesday evenings with their members meeting at Seven Towers Leisure Centre. Various training programs are available to suit all runners. Also on Saturday mornings they are very much involved with the Park Run at the Ecos Centre – a 5km weekly event which is now attracting a huge number of local runners.
Their annual Glenariff Mountain Race is happening on Saturday 14th March.This event starts in Waterfoot and then heads inland along the Glenariff riverside before starting an 1100ft climb up a section of Glenariff Glen. When the runners reach the turn point they retrace their steps back to Waterfoot, a total of approx 6 miles. The course is mainly run on sections of The Ulster Way, will be well marked and marshalled. If you're interested in participating the action gets under way at 12 noon with registration in St. Patrick's Primary School, Waterfoot. Registration fees are £5 and £6 for attached/unattached runners respectively. Contact Jonny Steede for more details on 07738 016 363 or by clicking here.
Over the years many Ballymena Runners members have competed in major events both at home and internationally, and this year is no exception. The club would like to wish their member James Hamilton every success as he represents the UKSA Great Britain team at the INAS European Cross Country Championships held in Wakefield, England between 19th – 23rd February. James has been in impressive form during the last year finishing 5th overall in a top quality field at the recent Stormont Cross Country event and has been the fastest runner in local parkruns no less than 9 times.
If you would like to find out more information about the club or thinking of becoming  a member click on the link here. Keep up to date on Ballymena Runners Facebook page here.