The Ballymena Today Youth Team recently enjoyed Breakfast at Frankie and Benny's in town. Here is what they have to report:
Last month, I went out for breakfast with my dad for a treat because it was the beginning of the Half-term Holidays. We went to Frankie and Benny's. Frankie and Benny's is an American/Italian-style restaurant, which serves breakfasts, lunches and multiple-course meals, as well as hot and cold drinks and cocktails (for the grown-ups!).
It has a very relaxed atmosphere, especially in the morning – as there are less people who want to get out of their bed for a breakfast in the morning! However, I must admit that after I had eaten that morning at Frankie and Benny's, it was definitely worth the getting up out of bed for!




I wanted to go for something that I had never tried before, so instead of going for a full-on fry (which are delicious‼), I took my time to decide which breakfast I would go for. I eventually decided on a "Stateside Stacker" – I had never had one of those before. I read the brief description underneath the title, and decided that I would give it a try. I certainly was not disappointed! Want to know what it is? Well, it is a "breakfast sandwich", but that doesn't mean ham and cheese sandwiches all round! Instead, it is their freshly baked rosemary bread filled with a potato rosti, cheese, a sausage patty, bacon, fried egg, and of course the faithful tomato ketchup.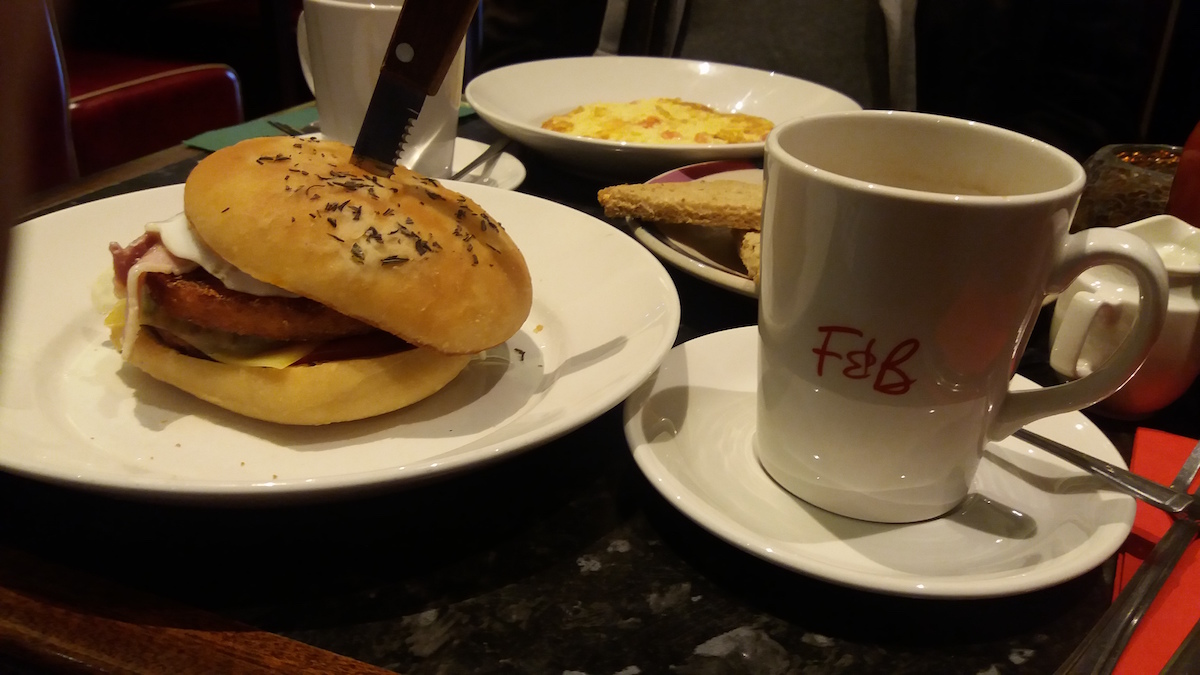 Again, I still didn't really know what to expect, so when it came on the plate, I was pleasantly surprised! It was huge! It was exactly what it said on the menu, except that this was much better than I imagined! It came with a steak knife pierced through it so that you could cut it up… although I wasn't really sure which way to eat it, it was so big!
They also serve loads of other delicious and tasty breakfasts, which would be hard to find anywhere else, for example they also serve Blueberry and Triple Stack Pancakes, traditional breakfasts such as huge Fry's and awesome Four Egg Omelettes, to more sweet breakfasts such as Mixed Berry Waffle and Bacon and Syrup Pancakes. They also serve vegetarian options such as Smashed Avacado, Veggie Breakfasts and the Veggie Stacker. All these options are exceptionally tasty, and will leave you very full at the end!
I also got the Stateside Stacker with unlimited coffee – which I ordered as soon as we sat down. It came really quickly – like 20 seconds later!
While we were waiting for our bill, I had a chat with one of the staff there. She was really friendly, and extremely pleasant, and we had a good conversation!
Frankie and Benny's also have a website, which you can use to view their menus and find out details about different offers they may have going.
So, Frankie and Benny's is currently one of my favourite places to go for breakfast: the food is of excellent quality, the staff are extremely helpful and friendly, and the service is brilliant. I love the inside décor, as it reminds me of something quite retro, and it has a very relaxed atmosphere. And the cushioned seats are to die for! Click here to visit their website.
Well… what about you? Are you willing to give up a morning or two to take a trip down to Frankie and Benny's in Ballymena for breakfast? Or maybe lunch, if you're not an early-morning riser…?