In Ballymena the Hope Centre is running Turn-about programme. The new educational programme runs for 10 weeks and aims to helps people to address problems such as isolation, alcohol and drug misuse. Eight people have taken part so far and they will benefit from several different activities which have been planned for the next few weeks.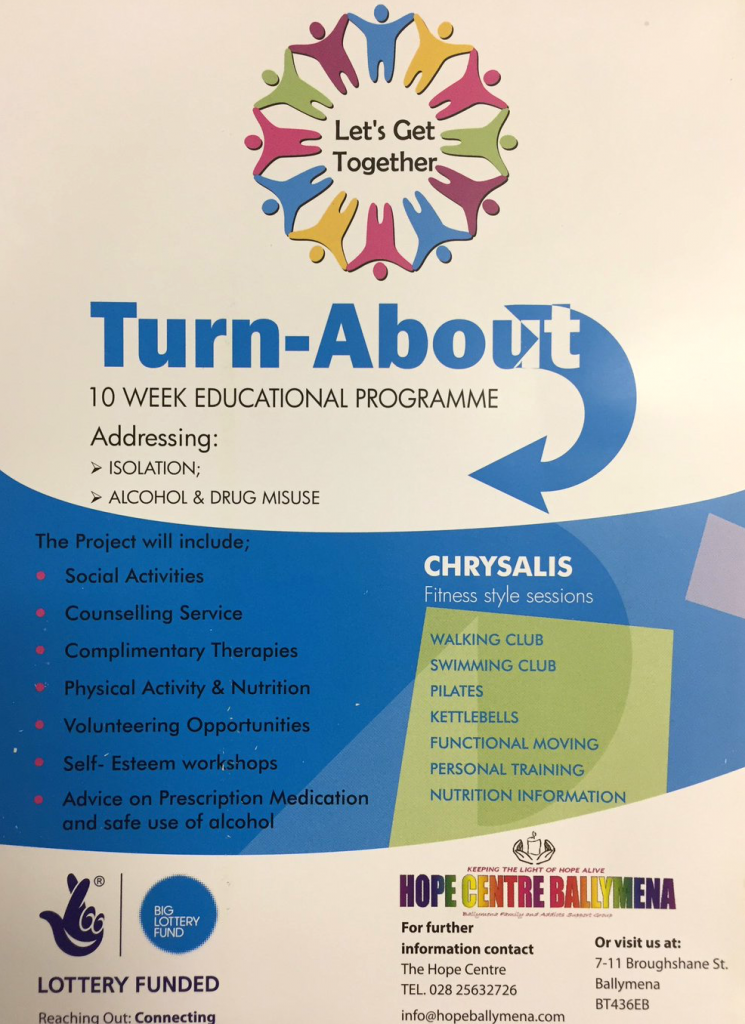 Hope Centre Turn-About programme
The project offers a variety of opportunities with workshops addressing self esteem, practical advice, personal training and exercising. The fitness sessions are very beneficial as exercise can promote a healthy lifestyle and give routine to each day. Exercise can sharpen mental skills, improve coordination and reduce anxiety and depression. (Source)
The Hope Centre is located on Broughshane Street in Ballymena.
The Hope Centre offers in-house support ranging from welcoming clients who have come in for a general chat with staff and friends in the communal area, to one to one weekly support.One to one support is carried out depending on the individual's needs and what stage of substance misuse they are at.  After assessment, clients will be offered support, referred for counselling and they may choose to keep getting acupuncture or other holistic therapies to help with anxiety.
Auricular Acupuncture is an important part of the clients' recovery, however some people do not wish to benefit from it, in which case they are encouraged to use the gym or exercise classes.  We find that clients who have become involved with the activities at the Centre have overall made better recoveries than those who haven't.
Our clients have got caught up in addiction, often through no fault of their own but because of traumatic experiences in their life.  The clients who come in every day tell us that the Centre is a lifeline. If you are suffering through addiction call us on 028 2563 2726 and make an appointment.
If you would like to know more about the Hope Centre in Ballymena then click here to visit the Hope Centre website.