Reading Together is something that Ballymena Bookclub would like to encourage. This month Ballymena Bookclub are reading "My Family and other Animals" by Gerald Durrell.
My Family and Other Animals is an autobiographical work by naturalist Gerald Durrell published in 1956, telling of the part of his childhood he spent on the Greek island of Corfu between 1935 and 1939. It describes the life of the Durrell family on the island in a humorous manner, and also richly discusses the fauna of the island. It is the first and most famous of Durrell's Corfu trilogy, together with Birds, Beasts, and Relatives, and The Garden of the Gods.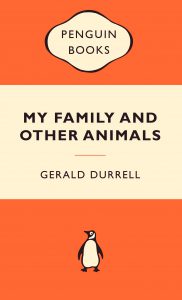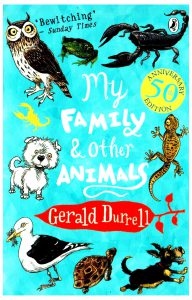 Above are two covers for the same book – one is the adult version and the other is the Children's version. This makes My Family and other Animals a perfect book to chose to read with your family. Grab a copy each, settle down for the evening and read this to you kids or let them read it to you. Durrell's writing is charming and his adventures are fun and suitable for the whole family. His writings were recently adapted into the ITV series The Durrells which has been on every Sunday night – so if you enjoyed the tv show you will love the book!
Reading together has lots of benefits for you and your family. The National Literacy Trust have put together this list of reasons why reading together is good: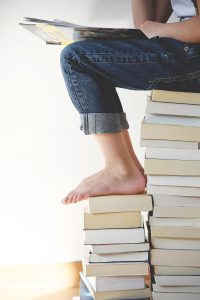 1. You'll be helping your child to succeed -Research evidence shows that your involvement in your child's reading and learning is more important than anything else in helping them to fulfil their potential.
2. You'll be supporting your child's language and understanding – Because books contain new words and concepts.
3. You'll be supporting your relationship with your child – Books support parent-child bonding in a fun, relaxed way.
4. Readers are more confident – And as they grow this confidence will mean they have access to greater job opportunities.
5. The love of books lasts a lifetime – If children enjoy books from an early age they are likely to continue to enjoy them as they grow up, providing them with a wonderful source of pleasure and escapism.
You can read much more about reading together including tips and hints to help you get started here.
Ballymena Bookclub returns on Wednesday 4th June at 7pm and is held in Waterstones Ballymena. Pick up your copy of My Family and other Animals and start reading, out loud, on your own or to someone else!