Ballymena artist Louise Lester of local business LLCrafts offers lots of different painting workshops as part of her "Enjoy Painting" classes. Covering Ballymena, Antrim and Kilrea. Louise gives everyone the opportunity join in with a group and get the benefits from joining an art class. You can choose what medium you enjoy working in – oil, watercolour, acrylic, pastel or paint. All the things that you need will be available at the class.
Painting workshops in Ballymena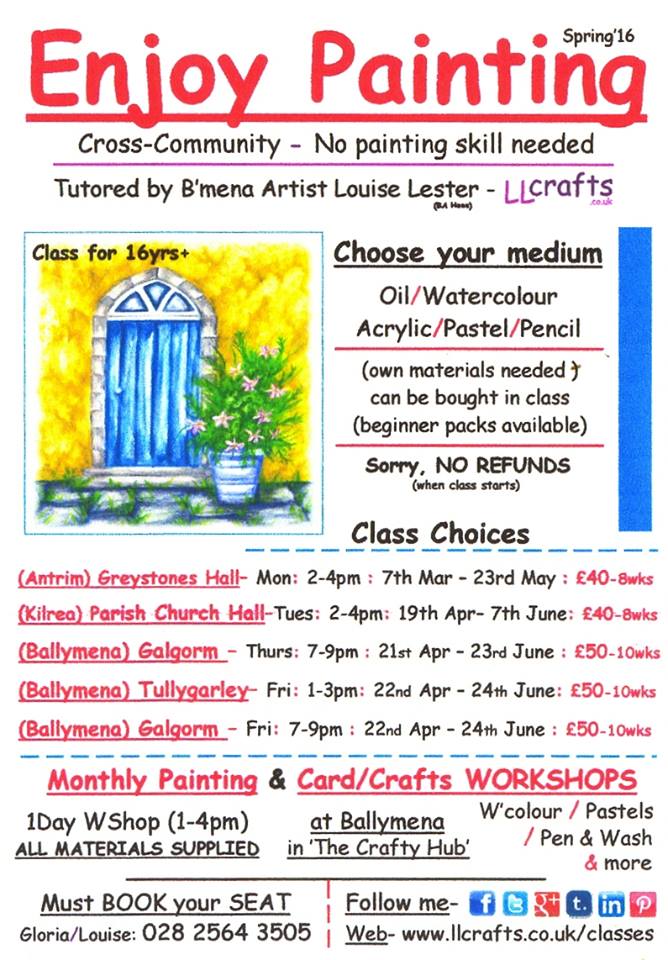 Joining an art class can benefit more than just your artistic skills – it can improve your mental health. Painting can improve you creativity, improve memory and communication skills and it can help to relieve stress. Being part of an art class can increase your mobility as you practice using a pencil or brush. It can also help you to develop an eye for details.
Given the various health benefits of painting and drawing, it is clear these activities can be very useful in promoting the welfare of an individual. Aside from improving mental and emotional capabilities, an individual may enjoy improved sensory and motor skills through constant painting and drawing. As anyone can engage in painting and drawing, these activities are definitely worth a try. (Source)
If you would like to read more about the benefits of being part of an art class please click here.
Another great benefit of being part of an art class is that you get to learn alongside other people of various abilities. Being part of a class leads to new friendships, banter and lots of fun! No previous art experience is required.
If you would like to book a seat in an "Enjoy Painting" art class, and gain all these amazing benefits, get in touch with Gloria or Louise from LLCrafts on 028 2564 3505 and click here to follow Louise on Facebook.