Local Cafe Nero Barista Stephanie Beattie is climbing Ben Nevis in June to raise money for charity – Friends of the Cancer Centre. Stephanie explains why she is taking on this mammoth task on her Just giving page:
In March 2015, I was diagnosed with endometrial cancer. Surgery followed in May, and five weeks of radiotherapy at the Cancer Centre in Belfast finished in August. 

My friends and I are planning to climb Ben Nevis on Saturday, June 11th. On that date last year, I was recovering from major surgery and waiting on a start date for radiotherapy. What a difference a year makes!

The radiotherapy suite is not one of the hottest must-see locations in Northern Ireland; however, Friends of the Cancer Centre strive to make improvements to create a relaxing and welcoming environment. 

They are also involved in cancer research, partnering with Queens University Belfast. 
If you would like to find out more about Stephanie or help her to reach her total then please click here. You can also call in at Cafe Nero in Ballymena for a chat and to enter her raffle which costs £2 and offers the chance to win lots of vouchers from local businesses.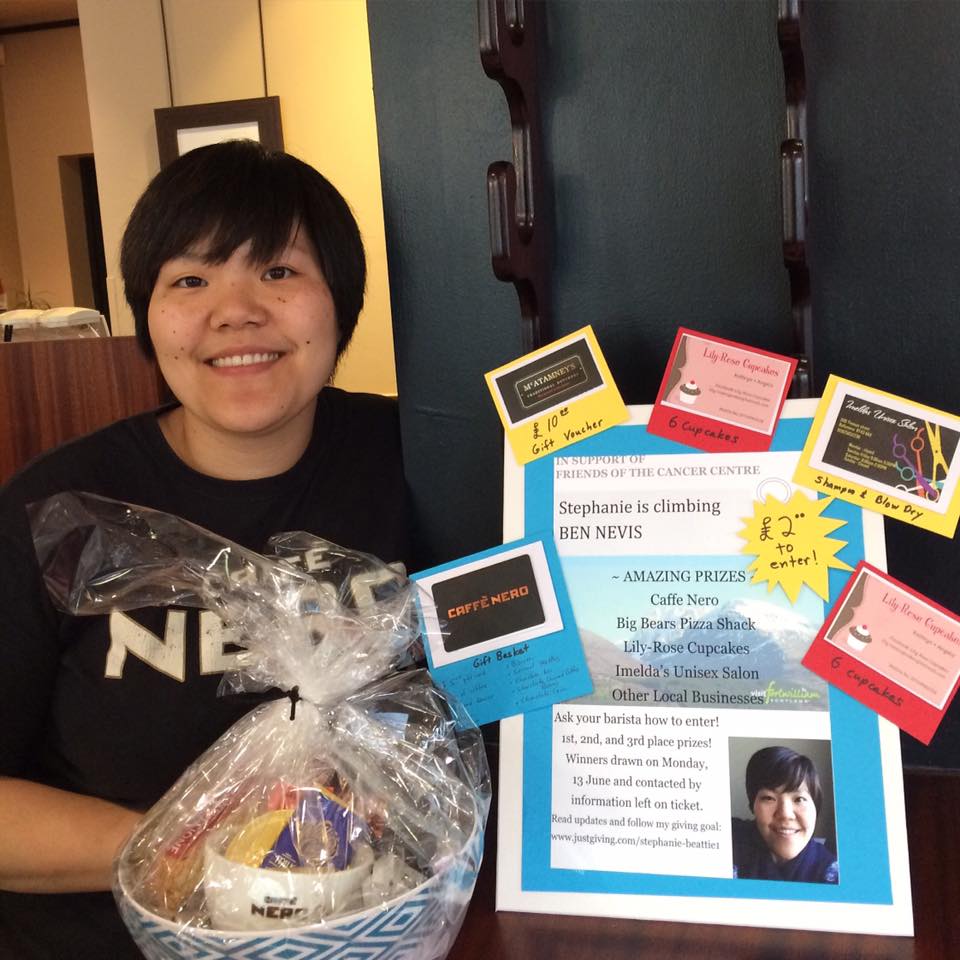 Friends of the Cancer Centre has a long and proud history of helping local cancer patients across Northern Ireland over the last 30 years.
Based at the heart of the Cancer Centre at Belfast City Hospital, the charity funds life-saving and life-changing projects that make a real and lasting difference to the lives of thousands of local people affected by cancer and in the last year alone, Friends of the Cancer Centre has put nearly £1.8 million back into the Cancer Centre. Visit their website here to read more about their amazing work.
Oh and I almost forgot . . . . .



I am going along too. So please support Stephanie, Rhonda and myself as we conquer the highest peak in the UK for this wonderful cause. If you have climbed Ben Nevis we would love your tips and hints. Please follow our Ballymena to Ben Nevis progress here, or follow #bennevisready