Ballymena team, Stephanie, Rhonda and myself are getting ready for Ben Nevis. We plan to climb the UK's highest peak this weekend in order to raise funds for Friends of the Cancer Centre who helped Stephanie through her cancer treatment last year. The Cancer Centre offers an invaluable service in Northern Ireland:
We know that walking through the doors of the Cancer Centre can be daunting, but we're here to make sure you and your family get the best care possible.

Our work focuses on three key areas – clinical care, patient comfort and care, and research – and the projects that we fund are in addition to the services provided by the Health Service.  In the last year the charity has invested £1.8 million into the Cancer Centre through the life-saving and life-changing projects that we support.  Each one makes a real and meaningful difference to the lives of thousands of patients and families across Northern Ireland. 
Click here to read more about their work and if you would like to read Stephanie's story or donate then please click here.
In preparation for our mountain climb we have been visiting the Mourne mountains and summiting some of the peaks. Last weekend we climbed Slieve Donard and this week we headed to Meelmore Lodge and summited Slieve Bearnagh.
We loved our latest hike. If you would like to take advantage of this beautiful weather then here is our advice for hiking in the Mournes.
If you are a beginner, or aren't used to walking very much then head to Meelmore Lodge which as excellent facilities and head for up the Trassey Track to Hare's Gap. The picture above is taken from the Hare's Gap and on a clear day the views are beautiful! From here you can continue to climb up, walk the Brandy pad, or take a break and head back down.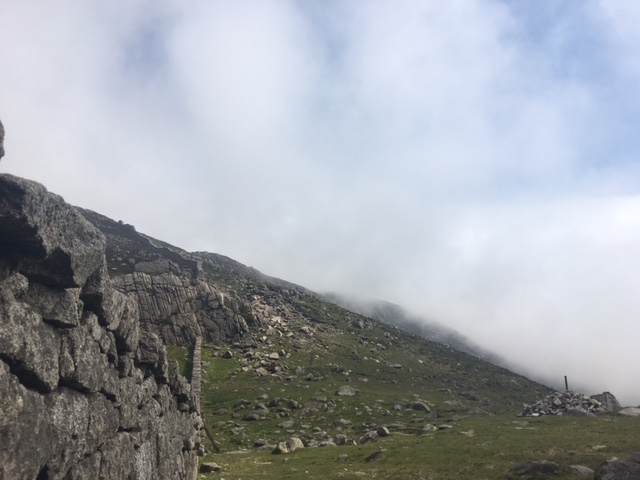 We decided to head up a mountain which had beaten us earlier this year. In March we attempted to summit Slieve Bearnagh but the weather was terrible and we had to turn back – we just didn't realise how close we were to the top. This week, in sunnier weather, we were able to climb path and get right to the top. It wasn't easy, and at times is more challenging than climbing the highest peak in Northern Ireland- Slieve Donnard, but we managed to make it.

Take your camera, have a picnic and enjoy the unspoilt views! You will need the rest to let you legs recover from the steep hike up!
And for the descent – we advise buying a decent set of walking stick which will really help you to get down those steep slopes. Take extra care when coming down as it is tempting to rush but your legs will be tired and descending takes a lot of concentration. Make sure that you are wearing proper walking boots – read about mine here, and take plenty of water, and wear sunscreen.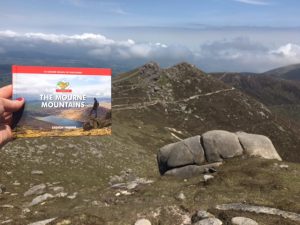 We also found this little book which was created by local photographer Steven Hanna really useful for our hikes in the Mournes. A boot up the Mourne Mountains by Steven Hanna features ten different hikes in the Mournes. Steven gives advice about how challenging each walk is, and has directions, help and photographs to keep you on track. We took it to the Mournes and used it to help us identify to other peaks around us and plan our next expedition. This is a great book for beginners who are just trying the trails for the first time. Find out more about Steven Hanna's photography here.
Let us know if you have been hiking in the Mournes recently or if you have any advice for our trip to Ben Nevis this weekend. We would love to hear from you! We hope that our charity challenge has inspired you to get out and about for a good cause. Follow our expedition using #BenNevisReady